"Those People:" Learning How to Have a Stepfamily
Gil and Brenda Stuart, Restored and Remarried
Friday, March 29, 2013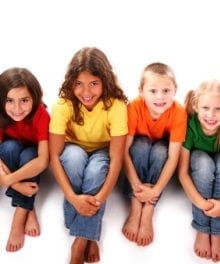 When you and your spouse vowed to one another to love, honor and cherish, a new parenting team was created. Without the luxury of a playbook, you didn't have options spelled out to overcome the obstacles. Men and women, I (Gil) must confess I was thrilled to meet my new wife. From the stats that I read, we are enjoying being in the rare 10% of remarried couples who have gone on to improve on what we had. I enjoy a fuller more content life rather than settle for a mediocre second marriage relationship that would make me wish I'd never tried the married life again. Because I am content in my marriage, I am a better parent.
Stepping up to the task of being a dad and stepdad, plus becoming a loving husband all at the same time, really calls upon you to intercede for your now new and existing extended family. Standing in between your "bio-kids" and your stepkids, at times the best you can do is stand still and believe you are going to survive. The "I'm not going anywhere" mentality is a strong tower for both you and your wife.
The former methods of who you were and how you operated hopefully changed during the transition of being single parent to being married again. Parenting skills are transferable but caution should be used in how soon and how much authority you exert in your new home. You are Dad or Mom to some, and a stranger to others in your own home…!
We have seven children between us. We lovingly refer to them as "Those People." In times of frustration or bewilderment we'd ask, "What are Those People doing? When are Those People leaving?"
Here are 2 questions we asked early on in our stepfamily adventure:
How do you feel when I criticize your biological kids?
Brenda: When you criticize my kids, I feel very defensive. Through the years I have defined myself (this is not always a good thing) by what kind of mom I am. When you criticize my kids, you are directly attacking that part of me. It can very easily put a wedge between us. I feel it is a direct reflection of me as a person. I also feel that you don't like my kids.

Gil: It's a complete put down to me implying that I've not done a good job. I also feel disrespected on my parenting skills of my own kids. It damages how I feel toward you because I feel attacked and it creates distance that I really don't want.
Second, how do you feel when I compliment your biological kids?
Brenda: When you compliment my kids, I feel on top of the world. Once again, I feel it is a reflection of me and the wonderful parent I am. It is very important to me that you like my kids as much as I do. When you compliment them, there is a positive connection and it feels great! Our marital team is stronger for it too.

Gil: It is like a pat on the back that I really want…makes me very happy that my kids pleased you and that they had done well. It gives me hope that we can have happy relationships in our stepfamily and that my kids were giving it their best shot. It draws me closer to you and increases my love for you because you see the good in my kids.
We quickly realized that getting the honest answers out, often the problems we were facing were not between us but Those People creeping into our relationship.
Adjusting
Stepfamilies need time to adjust to new living arrangements. Are they moving into their stepparent's home? Is there a new house being purchased? How can one of the tiniest rooms in the house have so much potential for a fight than any other room in the house? (We're talking about the bathroom by the way.) I guess it depends on how many girls you have!
Stepfamilies need time to adjust to new parenting styles. Some parents rule with an iron fist, others with a cashmere glove. Taking the time to earn the respect of your stepchild will pay off huge dividends in the end.
Recently on Divorce and Remarriage
Have something to say about this article? Leave your comment via Facebook below!
advertise with us
Example: "Gen 1:1" "John 3" "Moses" "trust"
Advanced Search
Listen to Your Favorite Pastors