Having a Merry Christmas in Your Marriage
April Motl, Crosswalk.com Contributor
Wednesday, December 12, 2012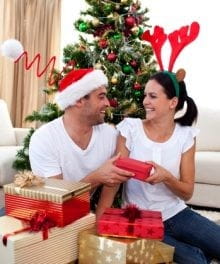 It's wild how the holidays can bring out such intense sides to our personality. Right after we gather around a table with family and friends to thank God for His blessings in our life, we gather to malls and store aisles to wrestle one-another like gladiators for deals. Our displays make the news and from one breath to the next we move from gratitude to greed. The hustle and bustle continues for another six weeks, stretching over Christmas and finally to New Years. Yup. It's a crazy time of year where, as a culture, we sacrifice to bless another one minute and indulge in almost every imaginable way the next.
In our marriages, the rush, the expectations, the schedule and the cookie induced sugar buzz can really make for some stressful—potentially explosive—situations. You might feel like your spouse turned magically into Mr. or Mrs. Clause and has a mission to give presents to the entire known world. Or perhaps you feel like your honey turns into the Grinch for Christmas and zaps the joy out of the celebrations. Or perhaps you feel like your wife turns into a real-life version of Frosty the snow-woman and has a melt-down at every holiday impasse. If this is anywhere near your Christmas family "traditions" then take heart; you aren't alone! All families struggle with the extremes the celebrations bring out of and on us! Here's a few tips to help you navigate the season:
1. Listen to each other. Whenever frustrations are bubbling near the surface, mentally slow-down and choose to engage in actively listening to one another. More often than not, the most frustrating part of a conflict is not that we see things differently, but that we feel un-heard and misunderstood. If she's buying too many presents, listen to her heart and find out why. If he's getting Grinchy, there is a reason. He hasn't swallowed a magic potion and transported ya'll to Whoville. Listen to each other and search out each other's motivations and heart behind the issues.
Listening might actually help your spouse understand why they are doing certain things. One year at Christmas, I was pretty bent out of shape about a number of things. My sweet man listened to me recount the troubles of the day as I melted Frosty-the-snow-girl style into a puddle of woes. Then at the end of it all I said what was really bothering me—I missed my grandpa! My grandpa had passed away and it was the first Christmas without him. I was trying so hard not to let the grief swallow the happy things that I wasn't letting myself see how much it was really bothering me. His listening provided a release and healing for me. So, go ahead and listen to your sweetheart!
This you know, my beloved brethren. But everyone must be quick to hear, slow to speak and slow to anger; for the anger of man does not achieve the righteousness of God. James 1:19-21NASB
2. Be a team. Commit to being more committed to your spouse than to your plans, expectations or Christmastime dreams. Nope. She might never make the pies the way your grandma did. Nope. He might never hang the lights the magical way your dad did growing up. It's ok. You married a one-of-a-kind person who can only be who God made them to be! And all our Christmas wishes don't hold a candle to the value of our spouse and our relationship with them. Choose to not allow disappointments to come between you. Don't misplace your treasure by valuing plans over people and relationships—especially your relationship with God!
For where your treasure is, there will your heart be also. Matthew 6:21KJV
Have something to say about this article? Leave your comment via Facebook below!
advertise with us
Example: "Gen 1:1" "John 3" "Moses" "trust"
Advanced Search
Listen to Your Favorite Pastors