Having a Merry Christmas in Your Marriage
April Motl, Crosswalk.com Contributor
Wednesday, December 12, 2012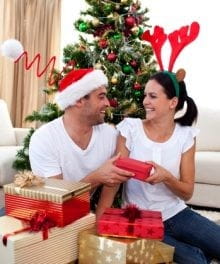 3. Make a plan together. While we want to avoid putting plans above people, we can steer clear of unnecessary headaches by coming to an understanding and agreement about holiday plans. If he expects to go skiing for New Year's, that will impact the Christmas budget. If she thought Christmas Eve dinner was at her parents this year, then it's good to know before you tell your mom you are coming to her house! Sounds simple, but it's so easy for the hustle and bustle to begin and before you know it, the calendar is full and no one knows how it got that way! Sit down and make a prioritized list of time and budget plans.
After you've made your plans, consider and pray about the best way to guard those plans. Especially during Christmastime, my man is the social secretary. If it were up to me, we'd never sleep between Thanksgiving and New Year's with all that'd I'd try to cram in! I know a couple who purchases one of those money-gift-cards and puts an agreed-on amount on the card for the wife to spend on Christmas presents. When the card is empty, so's the budget. No using the credit cards, no accidental debit overcharges! No more disagreements over the Christmas spending—yeah!
Do two walk together unless they have agreed to do so? Amos 3:3 NIV
4. Keep your focus. Christmas isn't Jesus birthdate, but if we are going to celebrate it as His birthday, then HE should be the highest priority in how we budget our time, finances and Christmas activities. So practically, if Jesus is my celebration and priority, then it is more important that I reflect His love, joy and peace than that my house is spotless, that the cookies turn out just perfect or that all my presents are wrapped to perfection. You know there's even been years I told my family I was just going to have to give them some of their presents for New Year's. Everyone lived through it! And I was able to keep Jesus more at the center of my focus than if I'd tried to accomplish the impossible. If any of your activities rob your daily devotion time, tempt you into anxiety or anger, or pull your heart away from Jesus then it's safe to say those things need to get trimmed out of your life.
Therefore, since we have so great a cloud of witnesses surrounding us, let us also lay aside every encumbrance and the sin which so easily entangles us, and let us run with endurance the race that is set before us, fixing our eyes on Jesus, the author and perfecter of faith. Hebrews 12:1-2 NAS
5. When disappointments come, look for the good, look for the redemption, look for God's hand and practice letting go of the little things. At a recent ministry conference a pastor's wife shared an insight I've been turning over and over in my mind. She reminded us (a group of pastor's wives) that our relationship with Christ is built on redemption, that our marriage is built on the redemption of two people who hoped to see His redemption in the lives of others and that our ministry will also be built on redemption.
Disappointments come—whether they come to you or your pastor, are ministry related, or are in your family or marriage, career or calling, and it's OK. We serve a big God and if all the rest of life is built on the redemption of our messiness, then our disappointments won't kill us, ruin us or end us. They will simply become part of the bigger redemption story. If we won't release small disappointments (like the potluck dish that spills all over the back seat or the family squabbles over who hosts Christmas), then how will we ever release the big disappointments to God's redemptive hands? The Christmas season offers ample practice to release disappointments into God's redemptive grip, doesn't it?
And we know that God causes all things to work together for good to those who love God, to those who are called according to His purpose. Romans 8:28 NAS
May your marriage shine bright with the love, joy and peace that comes from knowing the One we truly celebrate!
April Motl is a pastor's wife who serves along side her husband, Eric, at their church in Southern California. For more information about their ministry visit www.MotlMinistries.com. You can also follow their ministry on facebook, twitter and April's crosswalk blog.
Publication date: December 12, 2012
Check out our Christmas Facebook page!
Have something to say about this article? Leave your comment via Facebook below!
advertise with us
Example: "Gen 1:1" "John 3" "Moses" "trust"
Advanced Search
Listen to Your Favorite Pastors