Marriage and a Biblical View of Gender
Sheila Wray Gregoire, To love, Honor and Vacuum
Wednesday, August 14, 2013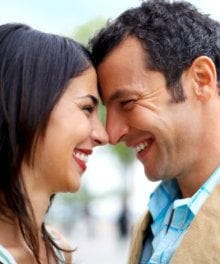 A woman once asked me if she should submit to a husband who wanted her to have sex with another man. I replied, "Of course. Submit in everything. Tell him no, gently and quietly." Another woman asked me if she should cosign loan papers that she knew contained misinformation. Her husband wanted her to sign. Should she submit? I answered, "Yes. Submit in everything. Refuse to sign, gently and quietly."
If that makes no sense to you, I encourage you to read the book, which I found really illuminating. He puts the focus back where it should be: how can we each serve God the most fully? How can we become all that God wanted us to? How can we become fully alive?
Whether we are married or not, God wants us each to be fully alive as masculine and as feminine. And in marriage, part of the blessing of that relationship is that we can help each other become fully alive. I can encourage Keith in his giftings, and he can encourage me. And in the marriage relationship, I see where I am flawed. I see where I have the tendency to not be gentle and quiet. I see where I often try to bowl other people over. God can use our marriage to help make me more gentle, more humble, more teachable. But I also can help sharpen Keith. "Iron sharpens iron," and we are to be iron for each other.
Too many Christians seem threatened by the thought that women may have ideas or opinions that can sharpen their husbands. I have had a man comment on this blog that he always reads the blog first, to be sure that the post is suitable, before he lets his wife read it. That attitude is the exact opposite of everything Crabb says, and of everything I believe–and more importantly, what I believe Scripture says. Sure, men who do this can say, "I consider my wife a princess. I love her dearly. I respect her more than anything," but if you don't also encourage her to think, and respect her opinions, and allow her to express herself, then your words are not evidenced in your actions.
Women are made as suitable helpers, and the Hebrew word for helper has no connotation of subordination, because it's used to refer to God as well.
We are uniquely made to encourage our husbands, sharpen our husbands, and inspire our husbands. If a husband is making sure that a wife doesn't have an independent thought, or telling her that she can't think certain things or go certain places without his permission, then they are not a team. He isn't respecting the giftings and the brain that God also gave her. He may say that he's just protecting her, but what he's really doing is not giving proper credence to the thought that she may have something to teach him–that God may want him to sit back and listen to her for a change. That God made her to be HIS HELPER–and perhaps she has something to help him learn, too.
Yes, submit. Yes, women, pray about how you can encourage your husband as he leads the family. Yes, consider his needs first and look for ways to bless him. Yes, work on being gentle and quiet. Definitely respect him, admire him, and tell him how much you appreciate him. But most of all, be fully alive for God TOGETHER. Be one–as you also are masculine and feminine–as God made you to be.
Let's not waste people's giftings and smoulder a wonderful spirit because a woman, in certain versions of Christianity, is less than a man. That is not biblical. The more people believe it, the less powerful we will be in spreading God's kingdom, because we'll be ensuring that 50% of the Christian population isn't allowed to become fully alive and to express their own God-given gifts.
Book has been provided courtesy of Baker Publishing Group and Graf-Martin Communications, Inc. Available at your favourite bookseller from Bethany House, a division of Baker Publishing Group
Post first published at To Love, Honor and Vacuum. Used with permission.
Sheila Wray Gregoire is a marriage blogger, speaker, writer, and mom. The author of seven books, including The Good Girl's Guide to Great Sex, she loves encouraging women to strive for the kind of real intimacy in marriage that God designed. When she's not blogging at To Love, Honor and Vacuum, you can find her on Facebook, Twitter, and Pinterest!
Publication date: August 14, 2013
Recently on Engagement & Newlyweds
Have something to say about this article? Leave your comment via Facebook below!
advertise with us
Example: "Gen 1:1" "John 3" "Moses" "trust"
Advanced Search
Listen to Your Favorite Pastors