Practicing Humility in Marriage
Arlene Pellicane
Wednesday, April 23, 2014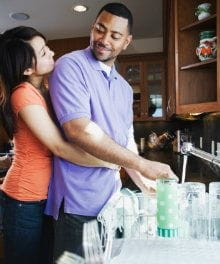 Though you do not see him now, but believe in him, you greatly rejoice with joy inexpressible and full of glory (1 Peter 1:8 NASB).
I was irritated by all the little things. I had to stand in a long line at the post office. Lucy had given me grief about taking her nap. I was cutting up chicken to put in a casserole for dinner. Why does it take so long to prep meals anyway? I was in a bad mood although I didn't really have a good reason for it. While I grunted at the chicken, James was in the family room practicing his guitar. He was playing a worship song and I began singing along.
My anxiety and irritation disappeared after just one verse. I was touched by singing that song about God's amazing love. The Holy Spirit filled my heart and instantly, I was at peace. All my striving could not produce happiness, but in a moment God filled me with that joy unspeakable and full of glory.
The Humility of Marriage
The Bible tells us in 1 Peter 5:5 that God opposes the proud, but gives grace to the humble. Since marriage is an ideal place to humble yourself regularly, there are countless opportunities to receive God's grace! Author Poppy Smith remembers a time when she humbled herself before God in desperation. Born in England, Poppy grew up there and in Sri Lanka, Singapore, and Kenya. As a young woman, she was working in Nairobi when a handsome American walked into her church and her life. Poppy says,
"I think I was like many women. I was naïve and starry eyed. You fall in love and you just want to get married and have babies. You don't really give much thought to compatibility issues because you assume you are."
Poppy was 22 when she married that dreamy American. Her husband Jim was 32 and they quickly discovered they were about as incompatible as two people could be. He came from a conservative Christian home where women knew their place and kept house. Poppy grew up in a non-Christian home and had only been a Christian for a few years. She was talkative. He was quiet. She had never been to the United States. He had never been to England. They moved to the United States and now Poppy was dealing with a new marriage, a new country, loneliness, regret and anger.
Six months into their marriage, Poppy told Jim that she had made the worst decision of her life and that it was huge mistake that they had gotten married. Even though they were committed Christians, they didn't know how to get along or how to meet each other's needs.
"I came to an emotional and spiritual crisis within my third or fourth year of marriage. I felt totally oppressed by my husband's expectations from his background. I was very lonely. He was gone constantly with his medical residency and he didn't know how to be empathetic with me. Within a couple of years I was pleading with God to show me a Biblical way out of my marriage but I couldn't find incompatibility as a reason. I thought I would have an emotional break down because I was so depressed or boiling angry. I just cried out to the Lord and he made it very clear: Poppy, let me change you. Instead of focusing on him and all the things you don't like about him, Poppy let me work on you.

I had become someone I hated. I never expected to be an angry, bitter, resentful person. The things I would say were so cruel and demeaning. It took me being broken before God. I wanted to please the Lord but I just didn't know how."
Poppy had a deep desire to honor and obey Christ by loving her husband even though she was miserable in the marriage. When she humbled herself and said Lord change me, she began to see her marriage turn around. That was 45 years ago. Poppy laughs and says they've come this far because she stopped trying to change him. Instead she asked God to show her what she needed to change. Many times God uses our present afflictions to make us humble. That humility can then make a way for hope and happiness.
Recently on Engagement & Newlyweds
Have something to say about this article? Leave your comment via Facebook below!
advertise with us
Example: "Gen 1:1" "John 3" "Moses" "trust"
Advanced Search
Listen to Your Favorite Pastors