What is Real Intimacy?
Sheila Wray Gregoire, To love, Honor and Vacuum
Wednesday, May 22, 2013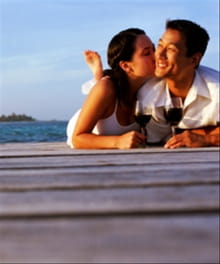 When we're married, intimacy encompasses all of that–your body, your heart, your mind. And it's a truly beautiful thing.
Maybe you don't have that. Perhaps sex has always been difficult for you because you're an abuse survivor, or because you did things before you're married that you're not proud of. Maybe he's the one with no libido, and you feel really alone. Maybe sex has just fallen off your radar screen because you're so busy and so tired and everyone's hanging off of you all day already. And maybe you just feel really distant from your husband.
I'm not saying that getting your sex life right will fix all of these problems. I know that some things are far more deep seated. But I also know that when we are connecting physically, it makes it so much easier to tackle some of the other problems in our marriage–communication, finances, parenting techniques, whatever.
Often we women think that we need to get those things sorted out first before we can have a great sex life. Those are the things holding us back. Or we figure we need to create this super close friendship again first. That's natural, because in general, women need to feel loved to want to make love. But can I make a suggestion? Understand that it works the other way for him: men need to make love to feel loved. And if you concentrate on loving him that way, and becoming more vulnerable, and more selfless, it's quite likely that he'll also feel closer to you in other areas of your marriage, too.
I don't know where you are in your marriage today; maybe you're angry, or resentful, or just lonely. Maybe you just feel blah. But try to focus on doing what you can to feel more intimate in every way–including in the bedroom. And if you do prioritize the bedroom, you just may find that a lot of these other problems are much more easily solved.
When I started doing that in my marriage, I suddenly got my best friend back again. And now, whenever we start to feel distant, I often find that before we really talk about why, we need to make love. It increases the goodwill between us so that we can tackle these problems.
So don't think that your marriage would be better if only he'd become your best friend again. Instead, focus on how to be his lover, and you just may find you have your best friend, too.
Post first published at To Love, Honor and Vacuum. Used with permission.
Sheila Wray Gregoire is a marriage blogger, speaker, writer, and mom. The author of seven books, including The Good Girl's Guide to Great Sex, she loves encouraging women to strive for the kind of real intimacy in marriage that God designed. When she's not blogging at To Love, Honor and Vacuum, you can find her on Facebook, Twitter, and Pinterest!
Publication date: May 22, 2013
Recently on Engagement & Newlyweds
Have something to say about this article? Leave your comment via Facebook below!
advertise with us
Example: "Gen 1:1" "John 3" "Moses" "trust"
Advanced Search
Listen to Your Favorite Pastors