Enjoy the Marriage of Your Dreams
Whitney Hopler, Live It Editor
Saturday, March 19, 2005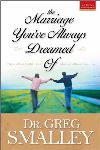 When you took marriage vows on your wedding day, you undoubtedly had many dreams for your marriage. You most likely still do, no matter what's happened in your marriage since then. And God Himself has great dreams for your marriage - that you and your spouse will enjoy close, loving relationships with Him and each other, and that your life together will bring about much good in the world.
But just like the ancient Israelites of the Bible, you may find that you haven't yet reached the Promised Land of which you dream. If your marriage is stuck in the wilderness of problems, don't give up. You can still enjoy the marriage of your dreams, with God's help.
Here's how you can make dreams for your marriage come true:
Spend lots of time together. Make your marriage a top priority. Schedule as much time as you possibly can to give each other your undivided attention on a regular basis.
Learn about each other. Strive to constantly discover new things about your partner - his or her likes, dislikes, personality quirks, etc. Understand that there is always more for you to learn about your spouse, no matter how long you've been married.
Live by your vows. Reject the idea of marriage as a contract that has an escape clause. Remember that it's a sacred covenant you made with God and each other, promising to stay together no matter what. Stay committed.
Don't stop having fun. Reminisce about ways you and your partner had fun together when your marriage was happy. Start doing those same things again. Enjoy each other.
Watch out for germs that can infect your marriage. Avoid withdrawal (leaving physically or emotionally whenever a conflict arises), escalation (increasing an argument's intensity or volume until it spirals out of control), belittling (calling each other insulting names or using demeaning language), and negative beliefs (believing a lie about your spouse, or accepting that something is far more negative than it really is).
Understand your fear dance. Think about the ways you "dance" in conflict as you deal with your fears. Describe a recent conflict or negative situation with your spouse - something that really "pushed your button." Then consider how that conflict made you feel about yourself. How did you react when you felt that way?

Identify what strategies you usually use to cope with that feeling. Know that once you understand your fear dance, you'll be able to break the unhealthy rhythm and learn new dance steps to create a healthier way of interacting with your spouse.
Take responsibility for your actions. Instead of focusing on what your partner does or doesn't do, focus on yourself. Take personal responsibility for how your own behavior affects your marriage. Realize that you can't control another person's behavior. Stop trying to change your spouse; know that only God can do that. Know that you can't force your partner to act in a way that pleases you, but you can decide to act in a way that will help your marriage.

Don't blame your spouse for pushing your fear buttons. Accept the fact that you are 100 percent responsible for yourself, your buttons, and how you react when your buttons get pushed. Rather than trying to force your spouse into your own dreams for your marriage, strive to discover what dreams God has for your marriage and submit to those dreams, trusting in His wisdom.
Learn to laugh. Expect that making changes to your relationship - even though they're good changes - will be stressful. As you and your partner deal with the uncertainty of change, use humor to relieve the stress.
Have something to say about this article? Leave your comment via Facebook below!
advertise with us
Example: "Gen 1:1" "John 3" "Moses" "trust"
Advanced Search
Listen to Your Favorite Pastors