Enjoy Unconditional Love in Your Marriage
Whitney Hopler, Live It Editor
Tuesday, May 11, 2004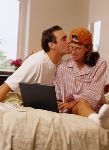 You love your spouse ... as long as he or she fulfills your expectations. Your spouse loves you ... unless you do something wrong. Does this sound like your marriage?
You and your spouse can love each other like God does - unconditionally - with His help. Here's how:
• Choose to love. Recognize that love is a choice, and decide to act in love no matter what your current feelings or circumstances. Trust that the Holy Spirit will give you the power you need to do so. Know that loving choices can bring about substantial, positive changes in your heart and marriage.
• Look for God in the ordinary as well as the extraordinary. Understand that God is present with you and your spouse at all times and in all situations - not just in exciting "mountain top" experiences. Be willing to trust God and choose to love your spouse in the "valley" of your daily grind as well.
• Imagine the possibilities. Read stories of God's work in the Bible, and listen to testimonies of how He is working in people's lives today. Recall the ways He has answered your past prayers. Then, as you consider God's awesome power to transform lives, imagine how He could change your marriage. Understand that each person and each marriage is a work in progress. Ask Him to give you a vision of hope for your marriage so you can see it from His perspective.
• Embrace your spiritual identity. Know that you are a beloved child of God. Accept the gift of His deep, unconditional love for you. Let your own experience of God's love help you more fully understand how to love your spouse unconditionally. Understand that God has chosen to love you no matter what, and strive to choose to love your spouse no matter what.
• Look for true fulfillment only from God. Realize that no human being - not your spouse, or anyone else - is able to fulfill all of your expectations. Expect your spouse to fail to measure up because every person in our fallen world is imperfect. But also know that God has the power to fulfill your greatest hopes and dreams. Look to Him alone to fulfill you.
• Be patient. Ask the Holy Spirit to help you stay in step with God so you're not running ahead of His perfect pace for your life. Ask Him to give you His perspective on challenging people (including your spouse) and difficult situations so you can handle them with patience. Remember that God is patient with you, and take the time to thank Him for that.
• Fight negativity with kindness. Avoid the dangerous habits of criticizing and condemning your spouse. Never treat him or her with contempt. Instead, be proactive about finding as many ways as you can to be kind to your spouse. Treat your spouse with courtesy, honor, and respect. Then watch how your kindness changes the dynamic of your relationship.
• Choose contentment. Don't compare your marriage to that of someone else. Understand that God has made you and spouse unique individuals, and that He has unique purposes for your marriage. Make a regular habit of counting your blessings and thanking God for what you do have so you can break free of envy.
• Focus on who you are, not what you do. Realize that God cares about who you are as a person much more than your accomplishments or circumstances. Rather than trying to impress God or other people, choose to rest in God's unconditional love for you.
• Choose humility over pride. Don't fight with your spouse just to prove that you're right. Realize that it's not worth it to win an argument just for the sake of winning, because by doing so you lose out on your relationship. Strive to look at a problem or conflict from your spouse's perspective.
Have something to say about this article? Leave your comment via Facebook below!
advertise with us
Example: "Gen 1:1" "John 3" "Moses" "trust"
Advanced Search
Listen to Your Favorite Pastors