Friendly Persuasion in Marriage
Barry R. Leventhal, Ph.D., Two Becoming One
Thursday, February 05, 2004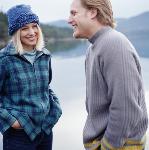 2. Friendly persuasion in marriage grows with sweet rather than sour words.
The wise in heart will be called discerning, and sweetness of speech increases persuasion (Prov. 16:21).
Mary Poppins had it right, "A little bit of sugar makes the medicine go down."
How we say what we say is just as important as what we say. As someone has said, "When love is felt, the message is heard." Sour words corrode marital intimacy. Sweet words enhance it. And like a lovely flower, that's when friendly persuasion can blossom in a marriage, giving off the sweet aroma of God's own presence.
3. Friendly persuasion in marriage matures with patience rather than hotheadedness.
Through patience a ruler can be persuaded, and a gentle tongue can break a bone (Prov. 25:15).
Patience means time. It also means waiting. Like anything that grows and matures, timing is crucial in the development of friendly persuasion in marriage. It is nurtured through the various seasons of a marriage. Early on in our marriages, we want everything right away. My husband must change right now! My wife just doesn't get it right now! But in reality, it is the slow, gentle persistent breezes that melt an iceberg-not the furious, harsh, hammering storms. They only enlarge and harden the iceberg.
Of course, it should not be surprising that friendly persuasion in marriage is grounded in God's friendly persuasion in our own individual lives. He is the One who is always seeking to bless and protect us through His Word, the only true Word that is absolutely flawless and trustworthy. God is the One who downloads His Word into our individual lives. He can also download it into our marriages as well.
He who gives attention to the Word shall find good, and blessed is the one who trusts in the LORD (Prov. 16:20).
Every word of God is flawless; He is a shield to those who take refuge in Him (Prov. 30:5).
In light of God's connecting points for friendly persuasion in marriage, prayerfully consider the following questions:
1. In the last six months, have you been a friendly persuader in your marriage or a hostile persuader? If your form of marital persuasion has been more like a hammer than a cotton swab, why not confess it to God right now and then ask your mate to forgive you.
2. In the next six months, how can you become a friendly persuader in your marriage? Remember, friendly persuasion is the outgrowth of a friendly heart and only God can transform our hearts. So why not ask Him to do so right now.


© 2003 Christian Family Life


FREE - Would you like encouragement for your marriage?   Click here to receive a weekly email devotional from Two Becoming One with principles and scriptures that will strengthen your marriage.

Two Becoming One publications and small group resources help couples understand God's purposes, principles and provisions for marriage.  Many key concepts in Two Becoming One are taught in the popular FamilyLife Ministry marriage seminars.



Enjoy this article?  Then find out more!  Enrich your marriage in 8 weeks with Two Becoming One.  Click here to see what leaders say about this marriage changing resource, discover our NEW Leader Kit, and learn about the FREE "Pastors Checklist" offer.

Have something to say about this article? Leave your comment via Facebook below!
advertise with us
Example: "Gen 1:1" "John 3" "Moses" "trust"
Advanced Search
Listen to Your Favorite Pastors