God's Forgiveness: A Model of Receiving Grace
H. Dale Burke, Author
Monday, October 01, 2007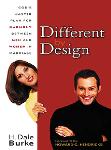 Sometimes it seems the only lesson in life that's harder than learning how to forgive is learning how to receive forgiveness. Much has been said about looking to Jesus as our role model for offering grace, but reconciliation can be short-circuited by a failure on the other end, the receiving end. The "guilty" partner is unwilling to receive or sees no need to receive forgiveness. God offers forgiveness, but for us to be restored and reconciled, for the relationship to be healed, the guilty party must have the right spirit. The Bible calls it repentance. Fortunately, God gives us a model. We're to receive forgiveness the same way He tells us to receive salvation.
Let us draw near with a sincere heart in full assurance of faith, having our hearts sprinkled clean from an evil conscience and or bodies washed with pure water. (Hebrews 10:22)
If you've offended your spouse and are seeking forgiveness, this verse and those immediately following it are your road map to reconciliation. Here you have a guide for authentic restoration. It starts with attitude.

• A Humble Heart.
seeking Mercy, not grace.
• A Repentant Heart,
eager to change.
• A Committed Heart,
reaffirming your vows.
• A Loving Heart,
ready to work.
Come with a humble heart, seeking mercy, not grace. If I've wronged my wife, I deserve nothing from her. Certainly not grace. The only appropriate way to approach her is the way I approach God when I'm seeking a restored relationship with Him. "God, be merciful to me, a sinner!" (see Luke 18:13). I should seek only mercy, which we've already learned is to have the one I've offended not give me what I deserve. "Be merciful to me, a husband" says I'm bringing no expectations to the table. What I receive is entirely Becky's call. I demand nothing, but humbly seek mercy.
After all, think of the alternative. Let's say I lose my temper big time with Becky. I yell at her, put her down, then come to her and say, "You know, sweetheart, I'm sorry, Will you forgive me?" And then before she can even respond, I add, "You know, honey, you owe me not only mercy, but grace. So since I've apologized, take the kids to a movie and then come home and fix me my favorite shrimp and steak while I put on some soft music-and we'll just enjoy a nice romantic evening together."
For Becky to give me mercy is one thing. For me to expect all the blessings of grace to be instantly restored to our relationship is quite a different matter. That would be grace, and God wants her to grant it. But I would have no right to expect it, much less request it, and certainly not demand it.
Come with a repentant heart, eager to change. So I come seeking only mercy. Can I at least hope for grace? Sure you can, but the text suggests that it rightfully hinges on your response to your own sinfulness. As the offender, I see the phrase, "having our hearts sprinkled clean from an evil conscience and our bodies washed with pure water" Hebrews 10:22) as a clear metaphor for cleaning up my act. I don't simply come appealing to my wife's merciful nature. I come saying I'm aware of my error and am willing to walk away from it. To change my ways. And as Lewis Smedes said, I need to be willing to solicit my wife's help in figuring out what kind of changes need to take place. "The price of their ticket into your life is an open ear; an open mouth gets them only halfway."
Have something to say about this article? Leave your comment via Facebook below!
advertise with us
Example: "Gen 1:1" "John 3" "Moses" "trust"
Advanced Search
Listen to Your Favorite Pastors