How to be a Winning Husband
Whitney Hopler, Crosswalk.com Contributing Writer
Thursday, January 19, 2012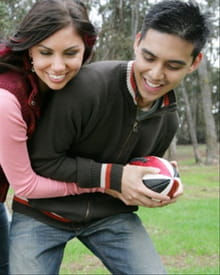 Editor's Note: The following is a report on the practical applications of Brian Goins' book, Playing Hurt: A Guy's Strategy for a Winning Marriage, (Kregel Publications, 2012).
Just like it's hard for sports players to stay in the game after they've gotten hurt, it's challenging to keep working on your marriage after your wife hurts you. You may feel like giving up hope of a better marriage when your wife injures you. But if you "play hurt" like sports heroes do, you'll see God reward your faithfulness by bringing winning results out of your pain.
Here's how you can develop a winning marriage by being a husband who stays in the game with God:
Realize that no wound, no matter how bad, needs to be fatal to your marriage. Your marriage can survive any type of wound your wife may give you (from rejecting your sexual advances in private to making disrespectful comments about you in public) if you trust God to help you persevere and respond faithfully to each challenge.
Pray for the guts to love your wife like Jesus Christ does. Decide to make Jesus your role model for how to love your wife, and make yourself accountable to Jesus for all you do in your role as a husband. Ask God to help you lead in such a way that it will be a joy and not a chore for your wife to submit to how you set the pace in the marriage, to love your wife in such a way that she won't doubt your devotion to her, and to sacrifice in such a way that your wife sees Jesus in you when you give up selfish desires to pursue her best interests.
Move from a performance-based to faith-based relationship. Stop expecting that your wife must perform better in what she says and does in order for your marriage to get better. God will help you improve your marriage regardless of how your wife performs in her marriage role. When you shift your focus away from your wife's performance and toward seeking God through your marriage, God will empower you to sustain anything you may go through. Pray for the strength you need to overcome your selfish impulses and love your wife as a man rather than as an immature boy. Recognize that doing so is a noble cause because it will bring God glory when people observe how you follow Him in your marriage. Also, when you put less pressure on your wife to live up to unrealistic expectations (such as by accepting her body's natural aging process instead of hoping that she'll always look like she did when you married her), you'll motivate her to love you more out of gratitude for the love you're showing her.
Fight your real enemy. Recognize that your wife is not your enemy; she's on your same team. Your real enemy is Satan. Fight against evil daily by fleeing from the temptations to act selfishly in your marriage and praying for God's will to be done in your relationship with your wife. Obey God when He calls you to do something that's hard to do (like forgiving your wife after she's hurt you), reminding yourself that God will give you the strength to do so if you just choose faithfulness over selfishness. Decide that you want victory in your marriage more than you want vindication for your injuries.
Enlist the help of others who care about you and your marriage. Find some guy friends who you can trust to encourage you, support you, and hold you accountable in your quest to build a winning marriage. Meet with them regularly and talk honestly and openly with them about how you're doing as a husband. Listen to them when they remind you that marriage isn't about your personal happiness; it's about holiness. Follow any wise suggestions they make about how to strengthen your character and your marriage. Ask an older couple whose marriage you admire to tell you how they've built a great relationship with each other. Visit a marriage counselor to work through serious issues in your marriage.
Have something to say about this article? Leave your comment via Facebook below!
advertise with us
Example: "Gen 1:1" "John 3" "Moses" "trust"
Advanced Search
Listen to Your Favorite Pastors