Husbands, Love Your Wives
Chip Ingram
Friday, April 23, 2004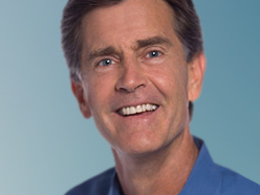 "Husbands, love your wives, just as Christ loved the church and gave himself up for her, to make her holy, cleansing her by the washing with water through the word."
Ephesians 5:25-26
The last part of this verse is a picture of what happened at salvation, the regeneration. The church came to Christ by the word. This word is rhema rather than logos. It presents the idea that Christ loved the church radically, died on the cross, and rose from the dead. When the gospel is preached through the spoken word, people come to Christ. When people come to Christ they are "born again;" they become holy. God in Christ wanted to draw us to Himself but He wanted to make us like Him. Christ's purpose in cleansing the church was to present her to himself as a radiant church. The ultimate goal wasn't just to save the church but to make her radiant, glorious and beautiful so that she could reach her full potential.
Men, this is God's model for what we are to do for our wives. Make her radiant, make her glorious, lead in such a way that she is lifted up, so that what we do causes her to be enhanced in beauty, freedom, and the development of her gifts.
"In this same way, husbands ought to love their wives as their own bodies. He who loves his wife loves himself." Ephesians 5:28. We ought to love our wives as part of ourselves. Every time you hurt your wife, you hurt yourself. Every time you are selfish and want your own way, you hurt yourself along with your bride. He who loves his wife loves himself.
This is a strong command, but it also has great rewards. When you learn to lead in such a way that makes following a delight, "submission" won't be even be an issue in your house.
Paul goes on to say in verse 29, "After all, no one ever hated his own body, but he feeds, and cares for it, just as Christ does the church." The application is that we need to be devoted to our wives and provide for them emotionally, spiritually, and physically. This means "to provide for the development of and to attain the health of." That's what we are to do as men. Not only feed, but care for. Not just provide for, but cherish. The word "care" literally means to keep warm, to protect. How do you keep your wife warm? How do you keep the flame burning? How do you live with her in such a sensitive way that the light keeps glowing brightly? We do it as Christ loved the church, for we are members of His body.
So men, the command is not hard to understand, but it's tremendously hard to do. It is to love your wife unconditionally. Christ's purpose was to secure the bride of Christ for himself and to bring the church to full development. Our purpose in loving our wives is to help them become all God designed them to be. You don't love her in order to get your way, you don't love her to eliminate hassles, you don't love her in such a way that everything is calm all the time. You love her so that she is able to be, in every way, what God designed her to be.
What Does This Mean?
Husbands must love sacrificially
Love your wife in a way that cost you something significant and precious. Don't love her with leftovers. On one occasion I walked out of the middle of an NBA All Star Game, right at the half-time slam-dunk contest, because I was sensing a prompting from God that Theresa needed to know that she mattered more than the game. It sounded little, but it was a big deal for me.
I said, "Hey, honey, you want to go get a cup of coffee and take a walk, just talk?"
She looked at me, "Isn't that the NBA All Star Game with Michael Jordan?"
"Yes."
"Are you kidding?"
"No."
And then she just beamed.
Have you ever had your wife call you at work with a problem, when you could just sense her desperation? I don't mean that I run home all the time, but there have been times that I could tell, just from the tone of her voice, that this was serious. Those are the times I tell her I'll be home in a minute, and I am. Appointments can be rescheduled, but that moment can't be.
Have something to say about this article? Leave your comment via Facebook below!
advertise with us
Example: "Gen 1:1" "John 3" "Moses" "trust"
Advanced Search
Listen to Your Favorite Pastors