Husbands, Win Your Wives' Hearts
Whitney Hopler, Live It Editor
Monday, October 24, 2005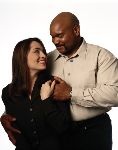 Enjoy a healthy sex life. Know that, for women, sexual attraction is based on relationship. So if you build a strong emotional and spiritual connection to her, she will be far more likely to open up to you sexually than if you don't. Remember that neither spouse has the right to withhold sexual fulfillment from the other, or to force the other to perform any sexual acts with which he or she is uncomfortable. Maintain sexual purity, focusing your sexual desires solely on your wife. Offer your body as a living sacrifice to please God and her through your sexual relationship. Choose to meet each other's needs despite varying moods, emotions, and circumstances. Work together to make mutually satisfying sex a regular part of your schedule.
Realize that your time is not your own. Understand that you shouldn't ever make unilateral decisions about how to spend your time, because you and your wife are a team and the way you spend your time powerfully impacts her time as well. Know that women often spell love T-I-M-E, so make it a priority to spend as much time with your wife as possible. Realize that quality time only happens in the midst of quantity time, and that the best moments together often can't be tightly scheduled. Remember that your wife's time is just as important as yours. Always check with her before planning your schedule so you don't trample over her needs.
Don't resent your wife's weaknesses. Know that your wife is a gift from God, despite her weaknesses. Remember that you, too, have weaknesses. Understand that it's often the things that irritate you most that God is using to transform you into a better person. Be merciful. Love your wife for who she is today (not who you wish she would be), and allow God to use you to build her character according to His plan (not yours).
Look for prestige in the right place. Don't make the mistake that so many men do of making their jobs the primary source of their prestige. Understand that God places a higher priority on your role as a husband and father than He does on your role as an employee. Derive your sense of prestige from how well you perform at home, rather than at work.
Lighten your wife's load. Help your wife with household chores and childcare as often as you possibly can. Don't expect her to be the one serving you constantly; do your best to serve her, as well.
Make your wife your passion. Intentionally pursue your wife on a regular basis with as much passion as you did before you were married. Make sure she is still your first love. Expect your efforts to ignite the flame of her passion for you, as well.
Become a true spiritual leader. Strive to become the person in your family who develops the deepest knowledge of the Bible, submits to what it says the best, and is the most consistent with prayer and devotions. Be comfortable worshiping at home, not just in church. Try to be the quickest in your family to forgive and ask for forgiveness. Set the spiritual thermostat in your home.
Nurture and train your children spiritually. Don't shirk your awesome privilege and responsibility to help your children grow in their faith. Agree with your wife on core values, then present them in a united front to your kids. Work as a team alongside your wife to parent your kids well. Help your children tap into the power of Scripture, the Holy Spirit, and their God-given spiritual gifts.

Get rid of sins that are holding you back. Understand that your own personal sins can greatly damage your marriage. Make sure your wife knows that she is free to point out sins in your life that you need to address. Don't ignore her when she does. Instead, take sin seriously and regularly repent before God and ask for His grace to keep growing.

________________________________________________


Adapted from Every Man's Marriage, copyright 2001 by Stephen Arterburn, Fred Stoeker, and Mike Yorkey. Published by WaterBrook Press, Colorado Springs, Co., www.waterbrookpress.com.

Stephen Arterburn is coauthor of the best-selling Every Man series from WaterBrook Press. He is the founder and chairman of New Life Clinics, host of the daily New Life Live! national radio program, creator of the Woman of Faith Conferences, a nationally known speaker and licensed minister, and the author of more than 40 books. He lives in Laguna Beach, California.
Fred Stoeker is coauthor of the best-selling Every Man series. He is the founder and chairman of Living True Ministries and a conference speaker who has counseled hundreds of men and married couples. Fred and his wife, Brenda, live near Des Moines, Iowa, with their four children.
Have something to say about this article? Leave your comment via Facebook below!
advertise with us
Example: "Gen 1:1" "John 3" "Moses" "trust"
Advanced Search
Listen to Your Favorite Pastors