Keep Your Marriage Alive While Caring for a Newborn
Whitney Hopler, Live It Editor
Thursday, September 22, 2005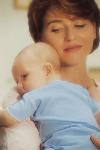 Recharge your spouse's batteries. Plan practical ways that you can refresh your spouse, such as by cooking a meal or letting him or her go out for an evening. Remember that when your spouse is refreshed, he or she will be in a much better position to refresh you. Share with each other what you need to be energized. Commit to do at least one of those things for your spouse in the next day or so.
Evaluate advice wisely. Even when you disagree with your spouse about how to parent your newborn, be sure to listen to your spouse and respect his or her views. Try to proactively discuss issues you feel strongly about before you need to make a decision about them. Listen respectfully to advice from well-meaning family and friends, but don't feel pressured to accept it if you and your spouse don't agree. Let family and friends who want to help you know in advance what types of support you would appreciate the most.
Be honest. Don't waste time or energy trying to keep up appearances around family and friends to try to have them think all is well when it isn't. If you're struggling, go to your spouse first, admit it, and ask for help. Discuss ahead of time what you're willing to share about your relationship and your struggles in front of your family and friends. When you need help, reach out for it in ways that don't embarrass your spouse. And remember not to compare your unique situation to someone else's.
Don't stop having fun! Plan and look forward to at least one thing you enjoy doing that isn't related to your baby, such as maintaining a hobby you pursued before your newborn arrived. Keep in contact with friends. Arrange babysitting so you and your spouse can still go out on dates. Exercise as much as you're able to elevate your mood and enjoy some recreation.
Let go of the past and embrace the future. Rather than grieving for the lifestyle you once had, embrace the changes that have come into your life and celebrate the new ways they can help you grow, individually and as a couple. Discuss what you're each looking forward to in the future. Make plans together.
Keep the spark of romance lit. Identify and deal with whatever issues are hampering your ability to enjoy intimacy with your spouse. Remember that intimacy is about more than just sex – it's about the connection between the two of you. Make it a priority to continue to interact romantically, both at home and on dates. Don't be shy about arranging babysitting for whenever you need it.
Don't forget to just enjoy your baby together. Take time regularly to just watch and play with your newborn, marveling at this wonderful gift God has created for your family. At the end of each day, don't just talk about your caregiving responsibilities. Also discuss what you each have enjoyed about interacting with your baby.

_____________________________________________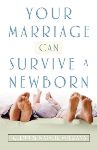 Adapted from Your Marriage Can Survive a Newborn by Glenn and Natalie Williams, copyright 2005 by Glenn Allan Williams. Published by Broadman & Holman Publishers, Nashville, Tn., www.broadmanholman.com.  
Glenn Williams is vice president of International and Cultural Ministry for Focus on the Family. As a licensed psychologist in Australia, he has addressed audiences worldwide on the topics of marriage and family. Natalie Williams is an occupational therapist and holds a bachelor of applied science and graduate degree in neuroscience. Glenn and Natalie have three children.
Have something to say about this article? Leave your comment via Facebook below!
advertise with us
Example: "Gen 1:1" "John 3" "Moses" "trust"
Advanced Search
Listen to Your Favorite Pastors