Let Your Marriage Draw You Closer to God
Whitney Hopler, Live It Editor
Wednesday, August 11, 2004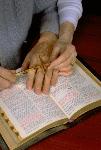 • Let your marriage teach you how to forgive. Recognize that conflict is an opportunity for spiritual growth. So don't run from it. Rely on the Holy Spirit's help to work through conflict and help you and your spouse forgive each other. Remember that God has forgiven you and wants you to learn how to forgive other so you can truly love.
• Build a servant's heart through your marriage. Realize that, in God's eyes, there is nothing more significant than servanthood. Don't worry about judging whether or not you think your spouse deserves to be served. Decide to serve him or her no matter what, because God calls you to and God is worthy of your obedience. Don't assume that your time and energy is more important than your spouse's. Be proactive about serving him or her. Seek to give more than you take, lessen your demands and express more appreciation toward your spouse, and be more sensitive to your spouse's demands.
• Let your sex life grow your character. Understand that you and your spouse share more than just a temporary, earthly relationship as lovers. Remember that you also share an eternal relationship as brother and sister in Christ. Never reduce sex to simply a physical experience; keep in mind that the Holy Spirit lives inside both of your bodies. Be gentle and kind to each other, accepting each other's bodies and best efforts to stay healthy and fit. Be willing to give your best to each other as a gift. Pursue a passionate sex life, knowing that if you come alive with passion in one area of your life, that passion will carry over into other areas. Realize that if you become more passionate about your spouse, you can become more passionate about God.
• Let your marriage make you more aware of God's presence. As you build your communication skills in marriage, let your experiences focus you out of yourself. When you struggle with marital dissatisfaction, let that remind you of why you need God. When you look at your spouse, learn to see someone made in God's image. Embrace opportunities to create with your spouse - children, shared projects, etc. - and relish God's creative energy flowing through you as you do.
• Build your spiritual purpose through your marriage. Look beyond each other toward God, asking Him to unite you to pursue a common vision in your lives. Evaluate what's truly important, and be willing to sacrifice selfish ambitions so both of you can achieve the greater good. Accept the two central missions of becoming the people God created you each to be, and doing the work He has given you to do.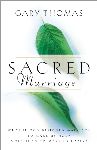 Adapted from Sacred Marriage, copyright 2000 by Gary L. Thomas. Published by Zondervan, Grand Rapids, Mich., www.zondervan.com.
Gary Thomas (www.garythomas.com), is a writer and the founder and director of the Center for Evangelical Spirituality, a ministry that integrates Scripture, church history, and the Christian classics. His books include Authentic Faith, Sacred Pathways, The Glorious Pursuit, and Seeking the Face of God. He teaches a course on spiritual formation at Western University and is one of the contributors to the Spiritual Formation Bible. He lives with his wife and children in Bellingham, Washington.


Have something to say about this article? Leave your comment via Facebook below!
advertise with us
Example: "Gen 1:1" "John 3" "Moses" "trust"
Advanced Search
Listen to Your Favorite Pastors