Marriage 101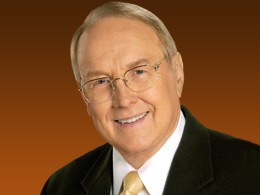 Another defining moment occurred eight years into marriage when Leslie's parents divorced.
"I took for granted the strength of my parents' marriage so much that it led me to take my marriage for granted," Leslie said. "When theirs disintegrated, I realized nothing can be taken for granted. I felt like I was prone to a new disease -- that I was somehow genetically re-engineered to be more susceptible to divorce."
"Unfortunately, no marriage is immune to bad things," Les said. "But we are determined to use whatever difficulties we run into to help us be stronger." In response to the divorce situation, the Parrotts wrote a book called When Bad Things Happen to Good Marriages in order to help other couples prepare for crises they might encounter.
Real-life exams
Once Les and Leslie were on staff at SPU, students started asking them to guest speak together in chapel and residence hall gatherings. So the Parrotts got comfortable with joint speaking and began accepting other public engagements outside of SPU. The relational topics they speak about are not just textbook answers and academic psychology but real-life solutions learned in the Parrott home.
"We try not to pretend anything," Leslie said. "I think that's a gift our students have given us because they want the real thing. They've given us the courage to not pretend that because we know the right thing to do we always do it."
Even with all they learned in school and from each other, Les and Leslie realized they had to set up certain rules to live by (See "Parrotts' Proverbs," right), learning to set boundaries. For example, when they go on dates, they don't talk about work. They just enjoy each other's company.
Working together has its own built-in accountability for their relationship. "One thing we like about working together is that we keep each other authentic and genuine," Les said. "I can't just go through the motions with Leslie right there keeping me accountable to the stuff that I'm talking about right now."
At times, even with all their experience and knowledge, the Parrotts have fought right before speaking engagements. One time Leslie was crying in the parking lot, and it was time to start. Though they didn't fight in front of the audience, they were open about their disagreement. It turned out to be one of their best seminars.
"We've learned to laugh at our role expectations we've had about marriage -- most of them shaped by our families," Les said. And when it comes to road trips, they laugh about their original navigating expectations, too. Leslie now reads the maps, sometimes; and Les doesn't always expect her to -- he just appreciates it when she does.
Learn more about Les and Leslie's marriage expertise at www.realrelationships.com .
Parrott's Proverbs Les and Leslie Parrott established several important principles for their marriage that other couples can adapt for their own relationships.
* No pillow talk -- talking in bed about business, to-do lists or work.
* Take a vacation every year as a couple, leaving children home.
Even with a son, Les and Leslie arrange to get away at least once for a weekend trip. * Talk to other couples who do similar work or have similar lives.
The Parrotts often ask David and Claudia Arp (and others in the marriage field) for advice about situations the Arps have faced.
* Do a daily self-check by asking, "What can I do this week to be a better wife/better husband?"
This article appeared in Focus on the Family magazine. Copyright © 2002 Focus on the Family. All rights reserved. International copyright secured.
Have something to say about this article? Leave your comment via Facebook below!
advertise with us
Example: "Gen 1:1" "John 3" "Moses" "trust"
Advanced Search
Listen to Your Favorite Pastors