Marriage As It Was Meant to Be
Monday, February 14, 2005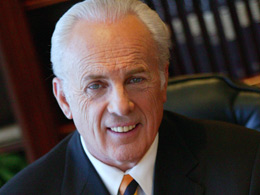 Divine Directives for Husbands

After giving the divine guidelines for the wife's submission, Paul devotes the next nine verses of Ephesians 5 to explain the husband's duty to submit to his wife through his love for her: "Husbands, love your wives, just as Christ also loved the church" (v. 25). The Lord's pattern of love for His church is the husband's pattern of love for his wife, and it is manifest in four ways.
Sacrificial Love
Christ loved the church by giving "Himself up for her." The husband who loves his wife as Christ loves His church will give up everything he has for his wife, including his life if necessary.
Most of you husbands would give verbal assent to that-literally dying for your wife is such a remote possibility for most of you. But I would speculate that it is much more difficult to make lesser, but actual sacrifices for her.
Husbands, when you put aside your own likes, desires, opinions, preferences, and welfare to please your wife and meet her needs, then you are truly dying to self to live for your wife. And that is what Christ's love demands.
Purifying Love
Christ loved the church sacrificially with this goal in mind:
That He might sanctify her, having cleansed her by the washing of water with the word, that He might present to Himself the church in all her glory, having no spot or wrinkle or any such thing; but that she should be holy and blameless (vv. 26-27).
Love wants only the best for the one it loves, and it cannot bear for a loved one to be corrupted or misled by anything evil or harmful. If you really love your wife, you'll do everything in your power to maintain her holiness, virtue, and purity every day you live.
That obviously means doing nothing to defile her. Don't expose her to or let her indulge in anything that would bring impurity into her life. Don't tempt her to sin by, say, inducing an argument out of her on a subject you know is sensitive to her. Love always seeks to purify.
Caring Love
Another aspect of divine love is this:
Husbands ought also to love their own wives as their own bodies. He who loves his own wife loves himself; for no one ever hated his own flesh but nourishes and cherishes it, just as Christ also does the church (vv. 28-29).
The word translated "cherishes" literally means "to warm with body heat"-it is used to describe a bird sitting on her nest (e.g., Deut. 22:6). Husbands, you are to provide a secure, warm, safe haven for your wife.
When your wife needs strength, give her strength. When she needs encouragement, give it to her. Whatever she needs, you are obligated to supply as best you can. God chose you to provide for and protect her, to nourish and cherish her, and to do so "as Christ also does the church."
Unbreakable Love
For a husband to love his wife as Christ loves His church he must love her with an unbreakable love. In this direct quotation from Genesis 2:24, Paul emphasizes the permanence as well as the unity of marriage: "For this cause a man shall leave his father and mother, and shall cleave to his wife; and the two shall become one flesh" (v. 31). And God's standard for marriage still hasn't changed.
Husbands, your union with your wife is permanent. When you got married, you had to leave, cleave, and become one with your wife-never go back on that. Let your wife rest in the security of knowing that you belong to her, for life.
Just as the body of Christ is indivisible, God's ideal for marriage is that it be indivisible. As Christ is one with His church, you husbands are one with your wives.
Paul goes on to say, "This mystery is great; but I am speaking with reference to Christ and the church" (v. 32). Why is submission as well as sacrificial, purifying, and caring love so strongly emphasized in Scripture? Because the sacredness of the church is wed to the sacredness of marriage.
Christian, your marriage is a testimony to the relationship between Christ and His bride, the church. Your marriage will either tell the truth about that relationship, or it will tell a lie.
What is your marriage saying to the watching world? If you'll walk in the power of the Spirit, yield to His Word, and be mutually submissive, you can know that God will bless you abundantly and glorify His Son through your marriage.
Adapted from Different by Design, © 1994 by John MacArthur.
Have something to say about this article? Leave your comment via Facebook below!
advertise with us
Example: "Gen 1:1" "John 3" "Moses" "trust"
Advanced Search
Listen to Your Favorite Pastors