Maximize the Most Important Year in Your Marriage, Part I
Whitney Hopler, Live It Editor
Thursday, June 03, 2004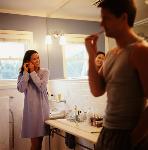 As a newlywed, you're fresh from the excitement of your wedding and honeymoon. Beginning the day-to-day life with your spouse after such wonderful celebrations can be a rude awakening as you discover each other's faults and frailties. But, if you approach this first year of marriage well, you can set the stage for a thriving marriage. The first year is the most important year, because it's during this year that you and your spouse must make crucial decisions that will powerfully affect the health of your marriage.
If you're a wife, here are some ways you can maximize your marriage's crucial first year:
• Express your needs to your husband, and notice his efforts to meet them. Know yourself well enough to know what makes you happy and why. Communicate your needs and desires clearly, specifically, and lovingly to your husband instead of hoping that he'll learn to read your mind. Whenever your husband succeeds in pleasing you, be sure to let him know and thank him.
• Learn to cherish your husband. Strive to express your love for your husband in ways that he best understands - not in the ways that you think should best communicate your love. For example, don't buy him a gift when he would rather have you join him on a camping trip. Ask your husband questions to discover more about how you can best express your love for him. Then do the things he mentions often and with a bit of extra effort (such as cooking not just his favorite food, but an entire meal that you know he'll love). Decide to act in loving ways even when you don't feel like it, and expect your actions to influence your feelings. Say yes to your husband as often as you can.
• Pursue spiritual unity. Rather than nagging your husband to grow spiritually, catch him doing something right and affirm him. Encourage him through your own example of Spirit-led living. Instead of lecturing, witness to him quietly as he observes the fruit of the Spirit in your life. Pray that God will give him the desire to grow and trust that God will provide that motivation. Choose one spiritual discipline that you and he can practice together regularly as a couple - like prayer or Bible reading - and fit it creatively and flexibly into your life. Join a local church together and fully participate.
• Discover each other's "normals." Identify what you and your husband each consider to be normal, based on experiences from your families of origin. Understand each other's underlying expectations and how they will affect your marriage. When you're arguing about something, try to get to the root cause of the conflict.
• Voluntarily yield to each other. Realize that you and your husband are a team, and he needs your help. Decide to voluntarily and mutually submit to each other, considering each other's needs over your own. Instead of trying to win an argument yourself, strive to let your relationship win.
• Build better conversations. Let your husband know upfront what kind of response you expect from him before you talk about an issue. Tell him whether you simply want him to listen, whether you want his advice, or whether you want him to make a decision. Since men listen best when they're doing something active, try to talk with your husband while joining him in some kind of activity. Use the last few moments before you go to sleep each night to engage in some fun and encouraging talks (but don't bring up serious issues during pillow talk).
• Pursue a friendship with your husband. Know that studies have shown that the greatest marriage protector spouses have is their ability to be close friends with each other. Make it a priority to spend time together by carving out at least six slots of time together during every week. Each slot of time should constitute a full morning, afternoon, or evening. Understand that these times together don't have to revolve around romance; instead, they should simply be low-pressure times to enjoy each other's company while you go about your daily lives (eating meals, running errands, etc.). Pay attention to each other, tell the truth, and give each other encouraging feedback.
Have something to say about this article? Leave your comment via Facebook below!
advertise with us
Example: "Gen 1:1" "John 3" "Moses" "trust"
Advanced Search
Listen to Your Favorite Pastors