Parents: Revive Your Romantic Relationship with Each Other
Whitney Hopler, Live It Editor
Tuesday, November 04, 2003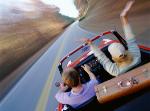 If you're a parent, romance may be a thing of the past for you. Perhaps you and your spouse had enjoyed a passionate relationship before your children were born. But once they arrived, your attention shifted to focusing on them rather than on each other.
Your children have many needs, but one of them is that their parents enjoy a thriving marriage. It's important — and possible — to make the time to nurture an ongoing romance with your spouse, even during your child-rearing years.
Here are some ways you and your spouse can keep your romantic love strong while raising children:
• Set aside time in your schedule to be together — just the two of you — on a regular basis. Don't discuss your children, work, chores or topics of disagreement between you during those times. Instead, use the time to enjoy something together as if you were dating.
• Engage in intimate conversation. Honestly share your thoughts and feelings, and genuinely listen as your spouse shares his or hers. Ask each other questions. Seek to learn more about topics that interest your spouse. Give each other equal time to speak, and don't interrupt each other. Look each other in the eyes, giving each other undivided attention without distractions.
• Only pursue recreational activities that you can both enjoy together. Don't spend some of your most enjoyable moments apart.
• Make it a habit to express affection. Hug each other, kiss each other, hold each other's hands. Frequently tell your spouse, "I love you."
• Have sex as frequently as the one who desires it most would like, but do it in the ways the one who desires it least finds most enjoyable. This will make lovemaking more desirable to the person who has a lesser need for sex.
• Give your spouse your undivided attention for at least 15 hours every week. Use that time to meet each other's emotional needs for affection, conversation, sex and recreation. If your relationship is in bad shape, schedule more than 15 hours each week for this. Every Sunday afternoon, sit down together with a calendar to schedule your time together for the coming week, planning some extra time you can use in case an emergency disrupts your original plan.
• Don't make selfish demands on your spouse. Realize that attempts at manipulation only lead to resentment — not cooperation.
• Don't make disrespectful judgments. Seek to understand and respect your spouse's opinions as much as your own. Remember that God has brought you together to complement each other.
• Avoid angry outbursts. Rely on God's grace to help you deal with issues calmly and rationally.
• Be honest with each other. Build trust by avoiding dishonesty and responding gracefully to the truth (even if it's hard to hear).
• Eliminate annoying habits. List habits that irritate each other, then work to stop doing things that disturb each other.
Have something to say about this article? Leave your comment via Facebook below!
advertise with us
Example: "Gen 1:1" "John 3" "Moses" "trust"
Advanced Search
Listen to Your Favorite Pastors