Pilot Buoyed by Wife's Cards & Prayers During Deployment
Carolyn Nichols & Joni B. Hannigan, Baptist Press
Monday, December 27, 2004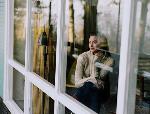 "They have rallied around me and were always checking on me, making sure I'm doing OK and not having a nervous breakdown or anything like that," she said. Bryan attended Calvary Baptist Church in Sigonella, Italy, while he was away, although his seven-day schedule prevented his attending regularly. "We don't have weekends, and so practically every Sunday I was flying or on the ready or had to go to work," Bryan said. "It will be nice to get back to my home church." Bryan said he missed Kristen the most when sleeping in a tent in Kandahar, Afghanistan, with 12 other servicemen as the temperature soared to 120 degrees. In addition to other responsibilities, his outfit provided reconnaissance and surveillance - direct support to Marines and others on the ground.
His faith, Bryan said, enabled him to face times when he felt endangered. "I would say the best thing about having assurance with Christ is that you don't have to worry day to day. There are guys over there .. who don't know what tomorrow holds. Whereas with me, if tomorrow ended, I'd know where I would be. That's comforting," he said.
His commanding officer, Commander Chuck Hollingsworth, was an inspiration to the junior officer, who calls Hollingsworth his mentor. "He is a solid man and totally set the example on the squadron. The squadron has become one of the premier squadrons because of his leadership. His walk is beyond reproach and he's a steady, godly man."
He also found Kristen's daily cards a comfort. After the cards started coming in mid-July, Bryan noticed that each one had a date on the bottom. Sometimes 12 cards would arrive together.
"It was like the highlight of my deployment because I always had something waiting for me when I got to the squadron. There would be a card there. Even when I was in Bahrain and Kandahar, they managed to make their way out there as well. It was like a piece of home."
The Hagers are "up for orders" soon but hope to stay in Jacksonville. However, they are content in knowing the Navy's orders do not affect God's plan.
"To me, God puts people where they work for a reason. He put me in this position so that I can affect the people I'm around. I don't believe I'm here by accident. I am where I am today because, apparently, He has other people who He wants me to share the Gospel with," Bryan said. "In effect, my work is my mission field."


Carolyn Nichols is a newswriter for the Florida Baptist Witness; Joni B. Hannigan is the paper's managing editor. Access articles online at www.FloridaBaptistWitness.com.


© 2004 Baptist Press. Used with permission. All rights reserved.


Have something to say about this article? Leave your comment via Facebook below!
advertise with us
Example: "Gen 1:1" "John 3" "Moses" "trust"
Advanced Search
Listen to Your Favorite Pastors