11 Ways to Build a More Loving Marriage
Whitney Hopler, Crosswalk.com Contributing Writer
Monday, July 28, 2014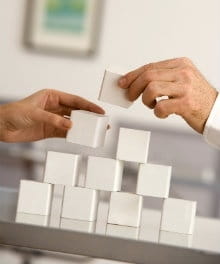 Editor's Note: The following is a report on the practical applications of Erin, Greg, and Gary Smalley's new book The Wholehearted Wife: 10 Keys to a More Loving Relationship (Tyndale House Publishers, 2014).
If your marriage isn't what you'd like it to be and your husband isn't changing, there's still hope that your relationship with him can improve. That's because you can greatly influence the state of your marriage when you change yourself through the power of the Holy Spirit working in you. The growth of one person in a marriage relationship significantly impacts the other person.
Here's how you can change your marriage by becoming a more loving wife, with God's help:
Recognize that a more loving relationship begins with you. Stop wasting time and energy trying to change your husband and accept the fact that only God can convince and empower your husband to change. However, be encouraged that you truly can improve your marriage by becoming the woman and wife God intended you to be. Aim to inspire your husband to seek a closer relationship with God (which will change him) when he experiences God's love flowing through you into his life. Engage wholeheartedly in your marriage and trust God's ability to transform it for the better as you rely on him.
Honor your husband. Ask the Holy Spirit to help you see your husband's true worth and value him as God intends by treating him with love and respect. Make a list of the God-given qualities that you admire about your husband, and choose to focus them as much as possible while giving your husband grace for his weaknesses and failures.
Nourish your marriage. When you take good care of yourself (body, mind, and spirit) and your husband (by treating him with love and respect), you put each other in the healthiest position to grow your marriage. Don't allow your marriage to be consumed by the stress of dealing with life's daily demands, such as household chores, errands, work, and parenting duties. Make sure that you're enjoying fun, romantic together regularly to nourish the emotional connection between you.
Accept the differences between you and embrace the freedom to be yourselves. Get to know the personalities that God gave you and your husband, so you can better understand how to work together to maximize each other's strengths and compensate for each other's weaknesses. Rather than be irritated by the ways your husband is different from you, choose to view those differences as gifts from God that can enrich your marriage when you work as a team toward shared goals. Whenever possible, focus on activities that energize both of you and put your God-given gifts as a couple to good use.
Connect spiritually by relating to each other at the soul level. If your husband is a Christian, spend time together strengthening your relationships with God, in ways such as praying, reading and studying the Bible, and participating in church. If your husband is not yet a Christian, witness to him about the power of faith in Jesus by showing his love in action – such as by extending forgiveness, seeking to meet his needs, and praying for him.
Foster effective communication between you. Ask God to help you improve the way you communicate with your husband. Study your husband's communication patterns so you can learn when he's most attentive and how he most enjoys talking with you. Keep in mind that men usually prefer direct statements (rather than hints), like to achieve goals (such as solving problems) when they communicate, often focus on facts instead of feelings, tend to use fewer words than women do, are highly sensitive to disrespect and criticism, and tend to feel most comfortable talking while engaged in some kind of activity (such as talking a walk). Give your husband your full attention during conversations with him, and be sure to listen to him as least as much as you talk.
Recently on Relationships
Have something to say about this article? Leave your comment via Facebook below!
advertise with us
Example: "Gen 1:1" "John 3" "Moses" "trust"
Advanced Search
Listen to Your Favorite Pastors