Calming Quarrels in your Marriage
Eric and April Motl, Crosswalk.com Contributors
Saturday, November 19, 2011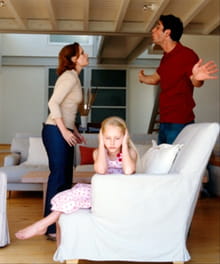 3. Seek out Biblical cures for your quarrels. Here's some that James lists for us:
But he gives us more grace. That is why Scripture says: "God opposes the proud but shows favor to the humble." James 4:6 NIV
• Humility. Maintain an attitude of personal humility when disagreements arise.
Submit yourself to God. James 4:7
• Maintain a heart of submission to the Lord by leaning into the Holy Spirit for guidance (including correction) when disagreements arise.
Resist the devil and he will flee from you. James 4:7
• Be aware of the enemy's schemes when you enter a disagreement. Ever watch a disagreement spiral into something you never imagined? Scripture warns that the enemy roams about like a lion, seeking those he may devour (1 Peter 5:8). Predators always look for the weakling at the end of the pack. In our spiritual lives, the enemy looks for the doors and windows that are loose, broken or weak. Fighting, anger (Ephesians 4:26-27) and unforgiveness (2 Corinthians 2:10-11) are all relationship issues that fly red signal flags catching the enemy's attention.
Draw near to God and He will draw near to you. James 4:8a
• Draw near to God. If it is possible (as in, if both you and your spouse are believers) for the two of you to draw near to the Lord through prayer before or during a disagreement, then do it! Inviting the Lord into any and every situation you face is always a good idea.
Wash your hands, you sinners, and purify your hearts, you double-minded. Grieve, mourn and wail. Change your laughter to mourning and your joy to gloom. Humble yourselves before the Lord, and he will lift you up. James 4:8b-10 NIV
• Clean up! When you come face to face with the reality of your brokenness, like we mentioned earlier, the only way to move forward in freedom is to confess it and then turn from it. Don't be afraid to get on your knees individually or as a couple and ask for the Lord's forgiveness and grace. And when you do find that an argument escalated to the point of hurting one another and sinning against the Lord, then mourn your mistake with true repentance so that the Lord might bring healing and joy to the very place of pain in your marriage. Too often we nurse grudges and anger after arguments, instead of allowing ourselves to just simply be broken before the Lord. He usually doesn't come in and fix what we don't admit is broken. But the healing He can work between two people who are willing to surrender their issues with honesty before Him is nothing short of miraculous!
Next time you come to an impasse in your marriage, run through these five steps and wait to see what the Lord will do. Waiting is a key element to humbling yourself before the Lord because the work is done in His timing and His way instead of you taking charge of things and doing them your way and in your time. There have been seasons when I struggled with something Eric was doing and could only submit my feelings to the Lord's care; no amount of talking would change his mind. Eventually the Lord grew both of us through the process of praying and waiting. And can you imagine it, but he has even had to do the same for me! (Wink, wink!)
May God's grace cover your marriage as you seek to honor the Lord in the way you handle conflicts in your home!
April Motl and her husband, Eric, minister at their church in Massachusetts, where he serves as senior pastor. April is the founder of In His Eyes Ministries; a teaching ministry devoted to helping women see their life from God's perspective. For more information about the ministry visit www.InHisEyesMinistries.com.
Recently on Relationships
Have something to say about this article? Leave your comment via Facebook below!
advertise with us
Example: "Gen 1:1" "John 3" "Moses" "trust"
Advanced Search
Listen to Your Favorite Pastors