How Forgiveness Can Restore Romance in Your Marriage
Whitney Hopler, Crosswalk.com Contributing Writer
Monday, October 07, 2013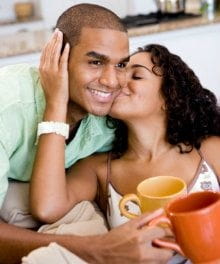 Like many Christians, Herbert and Zelmyra Fisher said they tried to please God and each other in their marriage. But they acknowledged times when they fell short, just as everyone does in this fallen world. In fact, since the Fishers were married for 86 years – from 1924 until Herbert's death in 2012 – they had more time dealing with the daily challenges of marriage than anyone else on Earth. The Guinness Book of World Records declared the Fishers the world's longest living couple in 2010. That same year, this North Carolina couple reached out on Valentine's Day via the social media site Twitter to answer the public's questions about how they maintained a romantic marriage for so long.
A crucial part of the Fishers' romantic success: forgiveness.
"Remember marriage is not a contest – never keep a score," they wrote. "God has put the two of you together on the same team to win." Part of their advice to other married couples about fighting reflected their commitment to forgiveness: "Learn to bend – not break!"
The Fishers' romantic bond endured for so many years, they said, because they decided to follow God's command to "Love each other with ALL of your heart" – a command that includes faithfully forgiving each other.
Links between Forgiveness and Romance
Several recent research studies have also shown links between forgiveness and romance among couples. A 2011 University of Tennessee study showed that offended romantic partners who forgave their offending partners were more satisfied with that state of their romantic relationships than spouses who refused to forgive. When romantic partners such as spouses forgive each other, a 2009 George Mason University study found, they often experience a restoration of both closeness and commitment following transgressions between them. Finally, a 2007 University of Miami study found that the higher the levels of forgiveness in a marriage, the more couples reported feeling satisfied with their lives and the more likely they were to experience positive moods rather than negative moods, which often put them in the right mood for romance.
The Greatest Benefits
However, some studies have shown that couples can enjoy the greatest romantic benefits of forgiveness only when remorse and repentance are also involved in the process.
The 2007 University of Miami study revealed that the strongest increase in marital well-being as a result of forgiveness happened in marriages in which the offending spouse apologized and made amends for transgressions against his or her spouse. The study showed that forgiveness in marriage has the most benefit when it comes after confession and repentance have taken place.
Indeed, forgiving too easily (when one's spouse fails to show remorse or change unhealthy behavior) may actually increase the likelihood of future transgressions occurring. The 2011 University of Tennessee study showed that when offended spouses forgave their offending spouses without necessarily requiring the offending spouses to first apologize and try to change, that forgiveness increased the likelihood of subsequent transgressions in the marriages, because the offending spouses seemed to exploit unconditional forgiveness.
Seeking God's Help to Forgive
The simple truth remains, however, that God calls you to forgive your spouse every time he or she sins against you – whether or not your spouse apologizes or makes an effort to change – because God has forgiven you and wants you to learn to love like He does. Colossians 3:13 is just one example of many Bible verses that describe God's command to forgive: "Bear with each other and forgive one another if any of you has a grievance against someone. Forgive as the Lord forgave you."
Recently on Relationships
Have something to say about this article? Leave your comment via Facebook below!
advertise with us
Example: "Gen 1:1" "John 3" "Moses" "trust"
Advanced Search
Listen to Your Favorite Pastors