Loving Your Man as God Loves You
Cindi McMenamin, Author
Tuesday, August 23, 2011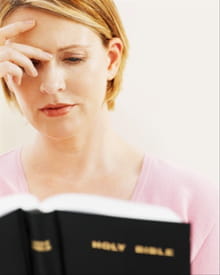 Note: This is the second article in a two-part series on transforming your marriage. Part I: What Speaks Love to Your Husband?
I was once a wife who was quick to point out my husband's faults. Quick to let him know when he was falling short of my expectations. Quick to let him know when he wasn't loving me as God does.
You can't really blame me, can you? There isn't a wife on earth who doesn't want her husband to lover her unconditionally – as God does. But when I turned it around and started trying to love my husband as God loves me, that's when things began to change in our marriage. I began focusing less on his faults and more on my own… and my own need for God's grace in my life.
My husband and I were talking the other day about how there would be far less marriages struggling today if just one partner in every marriage practiced the Bible's definition of love. Now, can you imagine what marriages would look like if both partners practiced unconditional, sacrificial and persevering love? There would be no strife, no stress, no bitterness, no built-up baggage. There would be no devastation or divorce. There would be two people, giving up their rights to themselves so they can serve one another. There would be a perfect picture in our love toward each other of God's love toward us.
Maybe your husband doesn't seem like the man he once was. Yet you are still with him. That is persevering love. That is love that says "I made a promise… now I'm keeping it." God did the same with you and me. Take a look at His never failing, unending, persevering love for you and see if you can't try modeling this to your husband:
1. He has promised He will never leave you. Never will I leave you; never will I forsake you. (Hebrews 13:5)
Can you say this to your husband, and truly mean it as God means it toward you?
2. He is always thinking only the best about you. How precious to me are your thoughts, O God! How vast is the sum of them! Were I to count them, they would outnumber the grains of sand. (Psalms 139:17-18)
Can you say that your mind is always filled with only good thoughts about your husband?
3. He is gentle toward you when you're broken. He heals the brokenhearted and binds up their wounds." (Psalms 147:3)
Are you gentle toward your husband even when he is angry or unlovable – which is how he often responds when he's hurt?
4. He promises nothing will ever come between the two of you. (Nothing) will be able to separate us from the love of God... (Romans 8:39)
Are there any conditions or exceptions in your mind when it comes to loving your husband? Is there something in the back of your mind that he could do that would end it for the two of you? God holds none of those reservations about you. He has promised nothing – that includes nothing you can do – will ever come between you and God. Can you say the same to your husband?
5. He delights in you, quiets you with His love, and sings over you. He will take great delight in you, he will quiet you with his love, he will rejoice over you with singing. (Zephaniah 3:17)
Recently on Relationships
Have something to say about this article? Leave your comment via Facebook below!
advertise with us
Example: "Gen 1:1" "John 3" "Moses" "trust"
Advanced Search
Listen to Your Favorite Pastors