Strengthening the Positive in Your Marriage
Dr. David Hawkins, Director, Marriage Recovery Center
Tuesday, June 21, 2011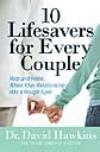 Our Mate's Healer
Have you considered that one of your most powerful tools for finding your way through a marriage crisis will be to see yourself as instrumental in your mate's healing? This may seem like a radical concept in light of the fact that you may consider your mate the instrument of your pain. Trust me, he or she doesn't want to hurt you. Your partner doesn't orchestrate each day to bring pain into your life. People who are hurting usually end up hurting others.
What if, instead of taking a position against each other, you took a position for each other? What if, during this crisis, when things look bleak and discouraging, you decide to be an instrument of healing—your mate's healing?
We are told in the creation story that Eve was created to be a helper suitable for Adam (Genesis 2:18). Although the Genesis account doesn't explain precisely how this will play out, the apostle Paul offers many illustrations of the husband-wife relationship. He instructs us to encourage one another, bearing with one another in love (Ephesians 4:2). We are to let no unwholesome word come from our mouth and to build one another up according to their needs (Ephesians 4:29). What if we offered encouragement to our mate, even in the midst of struggle and conflict?
Dr. Hendrix elaborates on this process of utilizing the marriage relationship as an instrument of healing:
We make a decision to act on the information we are acquiring about ourselves and our partner and become our partner's healers. We go against our instinct to focus on our own needs and make a conscious choice to focus on theirs. To do this, we must conquer our fear of change. As we respond to our partner's needs, we are surprised to discover that, in healing our partner, we are slowly reclaiming parts of our own lost selves."
Could this excruciating marriage crisis actually be a crucible for change and growth? Can we use this struggle to shift our focus, accentuate the positive, and step forward as a healer for our mate? Rather than viewing our mate as enemy number one, we can choose to recognize his or her wounds and assist in healing. This increases the likelihood that our partner will assist us in healing as well.
Plugged In to the Power
The only danger in the prospect of healing our mate and in the process of being healed ourselves is in believing we can do this under our own power. The mind is willing, but the spirit is weak. We so easily slip into worn-out, default patterns of behavior. When the chips are down and we're feeling puny, to revert back to our old, hurtful ways is incredibly tempting.
What we need is a Spirit transfusion. We need to be changed from the inside out so that we learn to act from a renewed and transformed mind (Romans 12:2). With this renewed mind, controlled by God, we live out the fruit of the Spirit: love, joy, peace, patience, kindness, goodness, faithfulness, gentleness, and self-control (Galatians 5:22). Our heart literally changes toward our mate—we want to become an instrument of healing.
If you're ready for radical change, consider this suggestion by David Clarke, author of A Marriage After God's Own Heart:
Reading and studying the Bible together will bring down walls and reveal who you really are. God's word will cut through every defense and barrier…Genuine closeness between a husband and wife comes only after their hearts are revealed—when they express their real thoughts, motivations, and emotions.
Today, if you are embittered and angry, feeling cheated and betrayed, consider that you can undergo successful heart surgery. Through the power of God, you can change this crisis into opportunity. With a renewed heart you'll see your mate in a new light and realize that the person with whom you're angry needs encouragement from you. If you offer it, more likely than not, you'll receive healing in return.
Have something to say about this article? Leave your comment via Facebook below!
advertise with us
Example: "Gen 1:1" "John 3" "Moses" "trust"
Advanced Search
Listen to Your Favorite Pastors