Survive Your Divorce
Whitney Hopler, Live It Editor
Monday, August 09, 2004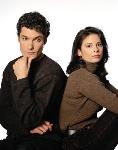 • Practice tough love with your former spouse. Speak the truth in love. Pursue forgiveness instead of revenge. Respect your former spouse's right to make wrong decisions. Develop confidence and self-respect. Look for common values. Put your thoughts in writing to your spouse to have a tangible record of your concerns. Then personally deliver the letter.
• Prepare a settlement offer. Make sure you have a competent attorney to help you navigate the complicated legal issues involved in your divorce, including child custody and property division. Before a settlement meeting, meet with your spouse and make a full disclosure of your assets and liabilities. Pursue church mediation if your spouse will agree to it. Advise your spouse in writing of your proposal. When making the settlement offer to your spouse, do so in person. Do all you reasonably can to settle out of court, if possible.
• Help your children through the process. Realize that divorce hurts children deeply. Be sure to tell your children that you and your former spouse still love them and don't blame them for the breakup of your marriage. Spend significant amounts of time with each child individually, giving him or her opportunities to fully express thoughts and feelings.

Listen without getting defensive to your children's honest questions, anger, fear, etc. Do all you can to create consistency and security in your children's environment, such as keeping traditions. Keep your promises. Encourage your children to contact the non-custodial parent whenever they'd like, and to visit as often as possible.

No matter what, don't ever criticize your former spouse in front of your children. Remember that your former spouse is also your children's mother or father. Don't use your children to relay messages to your former spouse; communicate directly instead. Let your children's teachers know about the divorce so they can understand the stress your children are under. Make every effort to include your children in decisions that affect them. Be patient with your children, giving them plenty of time to adjust to the major changes in their lives. If you don't have custody, be sure to always keep your visitation appointments and pay your full child support payments on time.
• Let go of the past and move into the future with hope. Accept the reality that your marriage is over. Admit that you are powerless to control events and other people, so stop trying. Refrain from blaming your former spouse for whatever goes wrong in your life. Instead of trying to protect your former spouse, allow him or her to face the natural consequences of his or her decisions. Forgive your former spouse and yourself. Rather than live in regret, learn what you can from your mistakes so you can make better decisions in the future. End relationships with people like former in-laws or others who can't genuinely accept you as a single person. Carefully consider whether or not you can emotionally handle a friendship with your former spouse, and do what's best for you.

Take time to relax and take care of your health. Choose fear less and choose love more. Rely on God more than you do on yourself. Ask God to show you anew how He sees you so you can more fully understand your identity. Ask Him to give you the fruit of His Spirit: love, joy, peace, patience, kindness, goodness, faithfulness, gentleness, and self-control. Develop and strengthen relationships with other Christians.

Enjoy your freedom as a single person. Be content with what you have, and be reasonable with your expectations for the future, giving yourself plenty of time before jumping into new commitments. Discover that your joy doesn't depend on your circumstances, but on your relationship with God. Ask God to help you heal to the point where you can be equally fulfilled as a single person as you would be as a remarried person. Seek to experience God's love more deeply every day.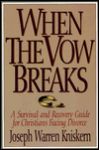 Adapted from When the Vow Breaks: A Survival and Recovery Guide for Christians Facing Divorce by Joseph Warren Kniskern, copyright 1993 by Broadman & Holman Publishers. Published by Broadman & Holman Publishers, Nashville, Tn., www.lifeway.com.
Joseph Warren Kniskern is an attorney with more than 28 years of experience. Throughout his career, he has based his approach to legal issues solidly on Scripture. He is affiliated with the Christian Legal Society, and has been cited on Who's Who in American Law. Kniskern is also the author of the Broadman & Holman book, Making a New Vow: A Christian Guide to Remarriage and Blended Families, and resides with his wife, Cheryl, and son by remarriage (Chase) in Weston, Florida.


Have something to say about this article? Leave your comment via Facebook below!
advertise with us
Example: "Gen 1:1" "John 3" "Moses" "trust"
Advanced Search
Listen to Your Favorite Pastors