The Cross & the Pen: The Twenty-third Psalm for Caregivers
Eva Marie Everson, Contributing Writer
Wednesday, June 09, 2004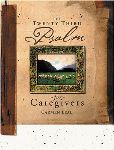 Have you ever been a caregiver, or know someone who is? Statistically, the answer to either of those questions is "yes." Sometimes we think of caregivers as adults who care for their elderly parents or other relatives, but that's not always the case.

Take for example my friends, the Bradshaws. Just a few years ago, life was normal. Husband and wife both worked fulltime jobs and had an active social life. Their children, 18-year-old Mandy and 16-year-old Joey, were typical teens. Then, one afternoon in 1999, while on her way to church, Mandy was struck head-on in a car accident, leaving her with severe, near fatal injuries. Since that time, Mandy's mother has been the primary caregiver of her daughter.

Also consider my good friend, author and speaker Carmen Leal. When Carmen married David, she had no idea that he carried a disease within him that, on the date of their third wedding anniversary, would rear its ugly head and demand to be reckoned with. The best years of their marriage were centered around David's being bed bound while Carmen took care of his every need.

Carmen's latest book, The Twenty-third Psalm for Caregivers (AMG Publishers), is a masterpiece of hope and faith for those who are caregivers or who will one day be. Recently, we got together to chat about it. Wanna listen in?

Eva Marie: The book is beautiful I know you must be so excited. Has it met your expectation?

Carmen: This book has gone beyond my expectations. I always wanted The Twenty-Third Psalm for Caregivers to find a home with the right publisher. I wanted a publisher of integrity who cared about the same things I cared about, but I also wanted one who could create a beautiful book. I am thrilled that God found a home [for it] with AMG Publishers.

Eva Marie: Carmen, I've known you for many years and I know this is a book from the very depths of your heart. Will you share with my readers why you chose to write a book for caregivers?

Carmen: I have to laugh that God has me in the thick of ministering to caregivers. I am truly the least likely person for God to use. I hated being a caregiver and, in the beginning, whined a lot about my situation. In 1991 I married David and in 1994 he was diagnosed with a rare neurological disease we'd never heard of. Huntington's Disease is sort of a mix of Alzheimer's, Parkinson's, Multiple Sclerosis, and Paranoid Schizophrenia.  Caring for David is one of the most difficult things I have ever done. Finances and lack of insurance forced us to relocate, and once we moved to Florida from Hawaii, we lost our support system. 

I have never been so alone in my life. I didn't have a church, a job, family, or friends. Somehow, though, I survived. There wasn't one person who really understood what I was experiencing, how I felt.  On the rare occasions when I did get out I'd hear, "How's David? We're praying for David." It was all about David. I understood, but what about how was Carmen? This wasn't just David's disease.

I can truly say that there were days and months and years when the only person I could count on was my Shepherd. I want caregivers to learn to trust the Shepherd during one of the most difficult and loneliest of situations. I also want them to know that it is possible to find joy through caregiving.

Eva Marie: What do you hope will be accomplished by the book?

Carmen: I want to minister to caregivers around the world. I want them to know how much the Shepherd loves them, and that even when it seems no one else cares, no one else wants to or even can help, He is truly all they need. I also want this book to create an awareness of what it means to be a caregiver, and how we as a nation, as a world, need to help. The person suffering from the disease, the accident, the birth defect, will always be uppermost in people's minds. And that is how it should be. But I want people's hearts to break for the caregiver who is sacrificing their dreams, and even their life, to be able to provide care for someone they love.

Have something to say about this article? Leave your comment via Facebook below!
advertise with us
Example: "Gen 1:1" "John 3" "Moses" "trust"
Advanced Search
Listen to Your Favorite Pastors