The Cross & the Pen: The Twenty-third Psalm for Caregivers
Eva Marie Everson, Contributing Writer
Wednesday, June 09, 2004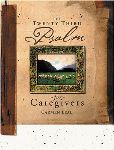 This is the book I wanted when I was in the thick of caregiving. It's not a fix-it or how-to book. When the reader finishes The Twenty-Third Psalm for Caregivers I want them to understand that there are some things that can't be fixed in life. But that's okay because the Lord is their Shepherd and He will get them through this and every other valley.

Eva Marie: The 23rd Psalm is among the most beloved of all literature, would you agree?

Carmen: Absolutely.

Eva Marie: Of all the chapters and verses in Scripture, why did you choose to write about caregiving using the 23rd Psalm?

Carmen: I chose this passage over every other scripture in the Bible because it is so well known and beloved. First of all, it paints such a beautiful image of our Father Caregiver. As I was caring for David, I needed someone to care for me. The Shepherd never once let me down. Caregiving can be a thankless and unending job. Psalm 23 is a welcome reminder that caregivers are not alone. The Shepherd sees, leads, and empowers them and will restore their weary souls.

People fall into four categories: Those who are caregivers, those who have been caregivers, those who are being cared for, and those who will need care. That means that every person on earth is or will be cared for or a caregiver. It's not an exclusive club for Christians either. Psalm 23 is the one passage that strikes a chord within each person, no matter their religious beliefs. It's a comforting scripture and one that is not controversial or adversarial.

Eva Marie: You interspersed each chapter with lines from old hymns. How did you decide which ones to use?

Carmen:  I wanted to write a universal book, and nothing is more universal than music. I wanted a book where people could see themselves. The hymns I chose are familiar enough to help the reader take ownership; hymns that have reached beyond the realm of "church music," and into a piece of Americana. Each hymn speaks directly to the chapter topic and is short enough to remember. Spencer W. Kimball was right when he said, "Some of the greatest sermons are preached by the singing of hymns."
 
Eva Marie: Carmen, how many caregivers are out there?

Carmen: I don't think we can appreciate the full spectrum of the vast number of Americans who fall into the caregiver category. According to the National Family Caregiver Alliance there are 54 million caregivers in the US today. That does not include those who do it as a job, nor does it include multiples in a family. For instance I have six siblings. If my mother ever needs care, and statistically she will, only one of us will be counted as a caregiver. Does that mean the rest of us don't care? Let's just say that a whole lot of people out there are involved in caregiving at some level.

Eva Marie: I don't think I ever truly appreciated what life was like for a caregiver until I became one...and I was a nurse for many, many years! Express in your beautiful way with words what life is like for a caregiver?

Carmen: I guess I could take the easy way out and suggest to your readers that they read the book since there is no single answer. Honestly, I don't have a concise answer to that question. Life for a caregiver will differ on any given day.  Remember that little girl with the one curl right in the middle of her forehead? When she was good she was very, very good, and when she was bad she was horrid. That's pretty much it. It all depends on how the one we are caring for is feeling or acting; Or if the insurance is paying their bills, if the disability check came in.

Have something to say about this article? Leave your comment via Facebook below!
advertise with us
Example: "Gen 1:1" "John 3" "Moses" "trust"
Advanced Search
Listen to Your Favorite Pastors