The Cross & the Pen: The Twenty-third Psalm for Caregivers
Eva Marie Everson, Contributing Writer
Wednesday, June 09, 2004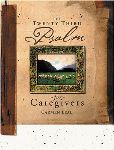 A 2000 study by the Family Caregiver Alliance reported caregivers are isolated, frustrated, overworked and depressed.

65 percent of caregivers don't receive consistent help from other family members.
69 percent of caregivers say frustration is their most frequently felt emotion.
77 percent of caregivers are employed outside of the home at least part time.
49 percent of all family caregivers say they have suffered from prolonged depression.

Those aren't beautiful words or emotions, but they are real and they show how much caregivers need the Shepherd.

Eva Marie: What is the most difficult curve in the road for a caregiver?

Carmen: I have spoken to thousands of caregivers over the years and there is a sameness about our situations. There are a lot of difficult curves, but the one that is mentioned over and over is the surprise of having family and friends abandon the caregiver. These are not unkind people, but it's hard being part of someone's trials for years and years. Most people don't know how to act, what to say, what to do. We live in a society when we want to fix things and most of what is going on in a caregiving situation can't be fixed.

I hope that non-caregivers will also read The Twenty-Third Psalm for Caregivers so that they have a better understanding of how they can help the caregiver. It doesn't take much to show the Shepherd's love to a caregiver; a card, a meal, renting a movie and bringing it over with popcorn, volunteering to watch the patient so the caregiver can get a break.

Eva Marie:  I read the story of Linda, a mother with extraordinary courage who said "no" when doctor's told her to prepare for her disabled daughter's death. In my way of thinking both letting go and fighting take an enormous amount of courage. How does a caregiver know when it's time to "let go" and when it's time to "fight?"

Carmen: And that's the caregiver's conundrum; there's never a right time to say good-bye and we are always ready for the battle to be over.  In our flesh we can't know when it's time to let go or when we need to keep fighting. This is when we need the Shepherd more than at any other time. When we pray He does answer. Sometimes He answers by bringing Hospice on board to help us make the hard decisions. Sometimes He brings in a specialist with another option and we know we have to keep fighting. To every question the answer lies in the Shepherd.

Eva Marie: Carmen, would you offer up a short prayer for those who are caregivers?

Carmen: Dearest Shepherd, help us to use You as our caregiver model. Thank you for being here, providing for us every step of the way on our caregiving journey, even when everyone around us seems to have gone. Thank you for guiding us through what seems like a never-ending valley into promised joy. Amen.


For more information about Carmen Leal, go to: www.writerspeaker.com
If you'd like to know more about Mandy Bradshaw and how you can pray for her, go to: www.pray4Mandy.com


Award-winning national speaker, Eva Marie Everson's work includes "Intimate Moments with God and Intimate Encounters with God" (Cook). She is the author of "Shadow of Dreams," "Summon the Shadows" and "Shadow of Light." (Barbour Fiction) She can be contacted for comments or for speaking engagement bookings at  www.EvaMarieEverson.com



Have something to say about this article? Leave your comment via Facebook below!
advertise with us
Example: "Gen 1:1" "John 3" "Moses" "trust"
Advanced Search
Listen to Your Favorite Pastors