Abstaining from Failure
Jane Jimenez, Agape Press
Thursday, February 10, 2005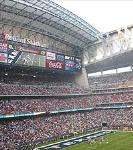 There's no better time of the year to look at what makes a winner than at Super Bowl time. New England made it look easy. But Philadelphia gave no easy ground, and to the very last second on the field, and in the minutes following in the locker room, both teams showed us the character of champions.
We can take a lesson from the big league winners when it comes to teaching our kids about life and success. Players like Bruschi, Owens, Branch, McNabb, and Brady don't rise to the top by accident.
1. Game Plan for Winning
Any good game plan is based on the fact that you want to win. You don't build success on a plan that says you plan to lose gracefully.
You make a plan to win. You study the plan. You analyze and revise and execute and analyze and revise and execute ... according to the plan! Winning is not an accident.
2. A Coach for Winning
Winning teams are made of people who want to win. Top on this list is the coach who inspires with leadership, encouragement, correction, and celebration. Sportswriter Vic Carucci gives both Super Bowl coaches proper credit: "Bill Belichick and [Andy] Reid are two of the finest football strategists to ever don a headset."
3. A Respect of the Rules for Winning
Belichick and Reid plan their strategies around the rules of the game. They know football backwards and forwards. They earn the "highest respect for their depth of football knowledge."
4. Heart on Fire for Winning
Winning is the goal. It is not a suggestion. It is not something that happens because you hope it will happen. Quarterback, lineman, receiver, defender or kicker ... your heart is on fire for winning.
5. A Team United for Winning
Every winner stands on the shoulders of people who made it possible. In three years, the trophy for Most Valuable Player has passed from Tampa Bay's Dexter Jackson, to the Patriots' QB Tom Brady, and now to Brady's teammate Deion Branch. Each MVP stands on the shoulders of unmentioned yet dedicated players who blocked, received, and kicked. They play as a team. They win as a team. They celebrate as a team.
6. Practice Unending for Winning
Winning teams are built with players who show up for practice ... on time ... ready to work ...day after day after day.
7. Imagination for Winning
Practice on the field is not enough to win. Brady is reported to call in the middle of the night, "Can you come up to my room? I've got a couple of things I want to go over with you."
"I promise you while everyone else is enjoying Super Bowl week," said outgoing Patriots offensive coordinator Charlie Weis before the game, "two nights I've been sitting in my room between 10 and 11 going over the game plan per his request."
Good players exercise the body. Winning players exercise the mind.
8. Accepting Personal Responsibility for Winning
Brady is being compared to the great quarterbacks. "He's poised. He's accurate. He responds to pressure. He deflects praise in victory as eagerly as he absorbs responsibility in defeat," writes SportsLine.com's Clark Judge.
9. Regrouping from Failure for Winning
A good team doesn't always win. But it knows what to do with losing. When asked about their slow first half in Super Bowl XXXIX, Deion Branch said, "We went inside and regrouped, and figured out what we were doing wrong and had to capitalize on a lot of things."
Have something to say about this article? Leave your comment via Facebook below!
advertise with us
Example: "Gen 1:1" "John 3" "Moses" "trust"
Advanced Search
Listen to Your Favorite Pastors