Adopted For Life
Russell D. Moore
Thursday, July 16, 2009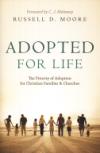 It is one thing when the culture doesn't "get" adoption. What else could one expect when all of life is seen as the quest of "selfish genes" for survival? It is one thing when the culture doesn't "get" adoption and so speaks of buying a cat as "adopting" a pet. But when those who follow Christ think the same way, we betray that we miss something crucial about our own salvation.
Adoption is not just about couples who want children—or who want more children. Adoption is about an entire culture within our churches, a culture that sees adoption as part of our Great Commission mandate and as a sign of the gospel itself. This book is intended for families who want to adopt and wonder whether they should. It is also intended for parents with children who've been adopted and who wonder how to raise them from here. It is for middle-aged fathers and mothers whose children have just told them they are thinking about adoption.
But this book is also, and perhaps most especially, for the man who flinches when his wife raises the issue of adoption because he wants his "own kids"—and who hates himself a little for thinking like that. It is for the wife who keeps the adoption application papers in a pile on the exercise bicycle upstairs—as a "last resort"—but who is praying fervently right now for two lines of purple to show up on her home pregnancy test. It is for the single twenty-something who assumes that he will marry after a couple of years in the post-college job force, find a nice girl, have a honeymoon for three or four years, and then they'll start thinking about getting pregnant. It is for the pastor who preaches about adoption as an alternative to abortion on a Sanctity of Human Life Sunday but who has never considered how to envision for his congregation what it would mean to see family after family after family in the church directory in which the children bear little physical resemblance to, and maybe even don't share the skin color of, their parents. It is for the elderly couple who tithe their Social Security check, dote on their grandchildren, and wonder how they can tangibly help the young couple who ask for prayer every month that they might be parents—and who never seem to show up for Mother's Day services.
Before we begin, though, let me tell you what this book is not. It is not a step-by-step guide to navigating the adoption process, complete with legal advice and agency recommendations. There are good resources available on those things. Second, even if I set out to write a book like that, the whirl of change in this area is such that it would probably be out-of-date by the time you read it. In the United States, state laws change sometimes month to month. Around the world countries authorize international adoption and then close down, only to reopen later. Those logistical issues are much easier than you think. Finding out the reputation and competency of an adoption agency, whether Christian or secular, is not much more complicated than a Google search. And the process itself is mapped out, in as much detail as possible, by a good agency.
Instead I want to ask what it would mean if our churches and families were known as the people who adopt babies—and toddlers, and children, and teenagers. What if we as Christians were known, once again, as the people who take in orphans and make of them beloved sons and daughters?
Not everyone is called to adopt. No one wants parents who adopt children out of the same sense of duty with which they may give to the building fund for the new church gymnasium. But all of us have a stake in the adoption issue, because Jesus does. He is the one who tells us his Father is also "Father of the fatherless" (Ps. 68:5). He is the one who insists on calling "the least of these" his "brothers" (Matt. 25:40) and who tells us that the first time we hear his voice, he will be asking us if we did the same.
Have something to say about this article? Leave your comment via Facebook below!
advertise with us
Example: "Gen 1:1" "John 3" "Moses" "trust"
Advanced Search
Listen to Your Favorite Pastors