Connect with Your Daughter through Godly Girl Talk
Carolyn Mahaney, Contributing Writer
Tuesday, December 20, 2005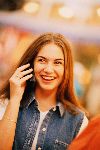 Talking is what teenage girls do best. They're professionals. They talk to friends on the phone, strangers who will listen, the dog, or even to themselves. When it comes to talking to Mom, however, conversation may not come so readily. Does this sample conversation sound familiar?
"How was school today, honey?"
"Fine."
"What did you learn?"
"Not much."
"Who did you talk to?"
"No one really."
"Is anything wrong?"
"No."
Gripping dialogue, isn't it? Actually it falls far short of God's intention for mother-daughter communication. We read of His remarkable pattern for our talking in the book of Deuteronomy, immediately after the Israelites received the Ten Commandments. There God commanded with majesty and authority:
Hear, O Israel: the LORD our God, the LORD is one. You shall love the LORD your God with all your heart and with all your soul and with all your might. And these words that I command you today shall be on your heart. You shall teach them diligently to your children, and shall talk of them when you sit in your house, and when you walk by the way, and when you lie down, and when you rise. You shall bind them as a sign on your hand, and they shall be as frontlets between your eyes. You shall write them on the doorposts of your house and on your gates. (Deut. 6:4-9, emphasis added)
From examining these verses and dipping into one or two others, I want to suggest five principles for girl talk: mother-daughter communication that speaks the language of biblical womanhood. Along the way I will recount my own journey of communication with my daughters.

Good Mother-Daughter Conversation Starts with Mom
The first thing to note from these verses is that parents are chiefly responsible to initiate communication with their children: "You shall teach them diligently to your children, and shall talk of them" (Deut. 6:7). Mothers, we are accountable to God to promote conversation with our daughters. If there is only token interaction between us, we must assume responsibility to reverse that trend. Godly communication isn't a happy accident. It is only possible by the grace of God, but it requires faithful effort on the part of us moms. So the first girl talk principle is: Godly mother-daughter communication starts with Mom.
Daughters, you are by no means off the hook. Picture an asterisk next to this principle. While your mom has primary responsibility for communication, you should not simply wait for her to take the initiative. Rather, you should initiate communication as well. If you are going to benefit from your mother's wisdom and counsel, then talking and listening are a must.
At first, in my daughters' early teenage years, I was the one having to initiate most of our significant discussions. Sometimes the dialogue went smoothly; other times it was quite discouraging. But I knew that I wasn't allowed to give up.
Setting aside dates with each daughter, and yearly overnights helped to ensure that communication remained a priority. I realized that in order to have particular important conversations, I needed to put them on the calendar. Often I prepared specific questions, words of encouragement, or topics to discuss on these occasions. To be sure, there were instances when these plans went awry; however, this practice did generate many profitable hours of communication.
From time to time my daughters brushed aside my efforts to talk or probe their thoughts. Occasionally they felt awkward, and I had to wait patiently till they were ready to divulge. Sometimes they were happy to chat about trivial stuff but hesitant to share what was on their hearts. My daughters quickly learned, however, that "I dunno" wasn't an acceptable answer. Though it wasn't always easy, I sought to lovingly persevere and promote godly conversation.
Have something to say about this article? Leave your comment via Facebook below!
advertise with us
Example: "Gen 1:1" "John 3" "Moses" "trust"
Advanced Search
Listen to Your Favorite Pastors