Connect with Your Daughter through Godly Girl Talk
Carolyn Mahaney, Contributing Writer
Tuesday, December 20, 2005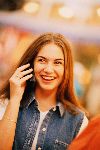 At some point, and almost without my realizing it, our mother-daughter communication took on a life of its own. The silence and reluctance gave way to an unending stream of conversation that hasn't stopped to this day. In fact, my role now is primarily as listener. I no longer need to ask many questions before the truth comes pouring out.

Developing a Constant Stream of Conversation

Girl talk should be squeezed into every available moment of the day: ". . . when you sit in your house, and when you walk by the way, and when you lie down, and when you rise" (Deut. 6:7). This just about covers it, wouldn't you say? In every place and at every time of day we are to be talking to each other. So the second girl talk principle is: Godly mother-daughter communication happens all the time. This means we shouldn't wait until a crisis or only for the scheduled times. We are to be talking constantly.
Conversation with my daughters often began the moment I awoke and concluded well past my ideal bedtime. Sometimes it started during my morning devotions when a daughter would hesitantly knock and ask to chat. Frequently one or more of the girls would join me as I got ready for the day, borrowing my mascara and gabbing all the while. Talking continued as the girls popped in and out from one activity or another. And dinnertime often lasted well into the evening as we enjoyed many memorable family discussions. By being home and being available, I was able to foster ongoing conversation.
But for single moms and women who don't have the option to be home with your children, remember that God will assist you to make the most of each moment that you do have.

Girl Talk: A Holy Pursuit
Deuteronomy 6 prescribes not only the frequency of our mother-daughter conversation but the content of our talks as well: "These words that I command you today shall be on your heart. You shall teach them diligently to your children, and shall talk of them" (v. 6). We shouldn't try to have good communication simply so we can experience a happy and peaceful relationship. Our conversation should be centered around the most important topic of all, God and His Word. Thus our third and most significant girl talk principle is: Godly mother-daughter communication is about the Word of God.
For mothers and daughters, talking about the Word of God includes our language of biblical womanhood. Communication with my daughters touched almost constantly on one aspect of biblical womanhood or another — whether it was the fear of the Lord, purity in their interactions with guys, or how they dressed or cared for their appearance. I didn't say, "We're going to talk about biblical womanhood now;" rather, it was the thread that ran through all our conversations.
These conversations took place before and after social events, church meetings, or any other activity outside the home. I tried to prepare my girls for the temptations they were likely to encounter: for example, trying to attract a certain boy's attention or tolerating gossip. I also coached them to enter any setting poised to serve, to reach out to others, and to set a godly example.
When they arrived at home, we would debrief — if not that night, then first thing the next morning. I sought to be faithful to keep them accountable to their commitments to display biblical womanhood. I praised them for demonstrations of godly character. And my daughters would often disclose temptations they had faced. Together we discussed their conduct, and, if necessary, I would send them back to confront or encourage a friend.
Have something to say about this article? Leave your comment via Facebook below!
advertise with us
Example: "Gen 1:1" "John 3" "Moses" "trust"
Advanced Search
Listen to Your Favorite Pastors