From Generation to Generation
Saturday, September 14, 2002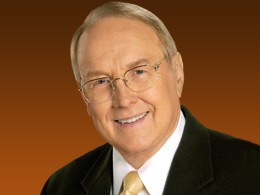 Shannon and Jennifer Kusilek had a problem. When their 9-year-old son spent the night at friends' houses, he sometimes watched inappropriate movies. They'd voiced their concerns to their son and the other families, but the situation didn't quite feel settled.
Then during a family car trip last fall, the Kusileks heard something on an "Adventures in Odyssey" broadcast that gave them a simple answer to their situation.
"We were listening to the episode 'All the Difference in the World,' " Jennifer explains. "The father on the tape told his son to call home before he watched any movies at a friend's house. So now that's a rule in our house.
"It was wonderful, because then our 6-year-old was also enthralled," Jennifer adds. "So right in the middle of an eight-hour car trip, I grabbed my Bible and opened it to 2 Peter 1:9, which was mentioned at the end of the program. We had a little devotional about how following Jesus means that we'll make choices in our lives that set us apart from people who don't know Him. It was really great. We've taken a lot of Focus on the Family's principles and made them our own."
And Jennifer knows plenty about Focus. Her parents, Dan and Phyllis Johnson, implemented Dr. James Dobson's ideas when she and her sister, Julie, were growing up.
"We raised our kids using the ideas in Dare to Discipline," Phyllis says. "And when Jennifer had children, I began talking right off the bat about the principles that I had learned."
The Johnsons are just one household that's seen Focus have a multigenerational impact on their family. Many others first learned of Dr. Dobson and Focus on the Family when their children were young -- but now their kids have kids of their own.
Prepared for Parenthood
Before Dan and Phyllis Johnson had children, they were listening to Dr. Dobson.
"I was pregnant at the time our Sunday school class started listening to cassettes of Dr. Dobson talking about the principles in Dare to Discipline," Phyllis remembers. "I've always been a voracious note-taker, so I took some notes and stored them away. Then my husband and I raised our girls using those things."
As instrumental as Dare to Discipline was in the early years of Jennifer and Julie's lives, the Preparing for Adolescence tapes were even more helpful as the girls transitioned into teens. (Julie now works at Focus on the Family.)
"I was about 9 or 10 when my mom started taking us individually to a hotel for a girls' special weekend," Jennifer says. "We'd listen to a tape, go shopping, then go out for dinner and listen to another tape. Then we'd sit in the sauna and listen to another tape. That was such a blessing that she took the time to do that."
Phyllis planned these events with each daughter for three years, each time listening to different tapes from the series.
"It gave me a forum to bring up issues," Phyllis explains. "I wouldn't sit down at the table one afternoon and say, 'Let's talk about peer pressure.' But listening to a tape would bring up questions that we could talk about."
Communication is still important to the Johnsons. Jennifer is married to Shannon Kusilek and has three boys.
"Jennifer and I talk every day," Phyllis says. "And we've chatted a lot about things regarding her kids."
Phyllis has passed on copies of Dare to Discipline and The Strong-Willed Child to Jennifer, who's put the books to good use.
"Dr. Dobson's ideas are totally ingrained with how my husband and I raise our kids," Jennifer says. "Little phrases that he uses, like 'I love you so much that I cannot allow you to behave this way.' I say that before every discipline I give, whether it's a spanking or just a talking to."
And as the Kusileks' children grow up, Jennifer has already gotten ready for next step.
"Now I have those Preparing for Adolescence tapes," she says. "And Shannon is going to get away on special weekends and go through them with our boys."
Have something to say about this article? Leave your comment via Facebook below!
advertise with us
Example: "Gen 1:1" "John 3" "Moses" "trust"
Advanced Search
Listen to Your Favorite Pastors