Give Your Children a Blessing
Whitney Hopler, Live It Editor
Wednesday, July 27, 2005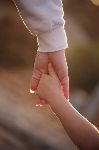 You have the power to give your children something they crave. It's something they'll search for their whole lives long until they find it. And it will significantly affect all of their relationships, both now and in the future.
It's a blessing - the gift of unconditional love, acceptance, and encouragement they need from you to fulfill their God-given potential.
Here's how you can give your children your crucial blessing:
Understand its importance. Realize that a parent's blessing is vital for a child's well-being. Many adults who never received a blessing from their parents become depressed, or drive themselves to work too hard as they constantly try to earn other people's acceptance. Some seek counterfeit blessings through immoral relationships, gangs, or cults.

Read about the significance of bestowing a blessing in biblical times, such as the story of how brothers Jacob and Esau sought their father Isaac's blessing. Know that a blessing is just as important today as it was during biblical times when it was formally given. Decide that you will incorporate elements of this biblical practice into your children's lives daily.
Give your children meaningful touch. Show your children how much you love them by kissing and hugging them on a regular basis. When you pray for them, lay your hands on them. Affirm them with a pat on the back or a gentle touch on the arm or shoulder. Communicate your acceptance of them in appropriate physical ways, no matter what their ages.

Give them a spoken message. Verbally speak words of love and acceptance to your children every day. Tell them that you love them; notice and mention ways in which they bring you joy. Tell them now, without waiting for another day.
Attach high value to your children. Recognize that each of your children is highly valuable because of who he or she is - God's creation - regardless of what he or she does or doesn't accomplish. Let them know that you love them for who they are, not what they do. Use word pictures when communicating with your children by: using an everyday object, matching the emotional meaning of the trait you are praising with the object you've picked, unraveling your children's defenses, and pointing out their potential.
Picture a special future for them. Although you can't accurately predict the future, trust that the all-good, all-powerful God has a special future in mind for your children.

Encourage and help your children set meaningful goals. Motivate them to use and develop their God-given talents. Nurture their good character traits. Pray with them regularly. Fill your children with hope about their future. Help bring out the best in their lives by giving them a positive direction to strive toward. Honor your commitments to your children consistently so they'll trust you and believe in the positive future to which you're pointing them.
Actively commit to help your children fulfill God's purposes in their lives. Decide to do everything possible to help your children become successful in God's eyes. Invest the time, energy, and money necessary to prepare them well for the future. Acknowledge that your power to bless your children comes only from God; commit your children to Him.

Recognize that each one of your children is unique. Get to know each child's desires, needs, goals, hopes, and fears so you can understand him or her. Consistently set up times when you ask your children questions, then listen to them with your full attention. Discipline your children when they're wrong so they can learn how to mature. Ask your spouse and/or some trusted friends to keep you accountable as you strive to keep your commitment to your children.
Have something to say about this article? Leave your comment via Facebook below!
advertise with us
Example: "Gen 1:1" "John 3" "Moses" "trust"
Advanced Search
Listen to Your Favorite Pastors