How to Talk with Your Kids about Sex
Whitney Hopler, Live It Editor
Wednesday, June 29, 2005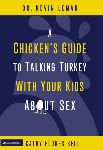 Use common household items to illustrate your points. Understand that kids learn best with concise information presented in a few sentences, with concrete, hands-on illustrations. Whenever possible, use an object to show what you're talking about (such as an almond when describing the female ovary).
Get feedback from your kids. Have your kids respond to what you've told them so you can know whether or not they've understood what you've said. If they haven't, clarify your points.
Use your experience to help foresee potential problems. Be on the lookout for suspicious situations and unhealthy relationships in your kids' lives. Add the benefit of your life experience to your kids' naïvete.
Wrap all conversations in the right context: marriage. Whenever you're discussing sex, emphasize that it's designed to take place only between a husband and wife. Stress how wonderful sex is between two people who have made a lifetime commitment to each other, and mention how awkward, painful, and disappointing it is between those who have not made such a commitment.
Teach your kids good physical habits. Help your kids learn how to properly care for their bodies by keeping them clean and fit. Teach hair and skin care, and proper oral hygiene to deal with the changes their bodies will go through during puberty. Encourage them to eat a healthy diet and get the right amount of sleep and exercise. If they respect their bodies, they'll be less likely to abuse them through illicit sex.
Help your kids buy the supplies they need. Go with them to the store. Explain to your daughter how to choose her first pads and bras. Help your son buy his first jockstrap and athletic cup.
Don't avoid the subject of masturbation. Understand that masturbation is a common practice among teens. Know what you and your spouse believe about it, and why. Be able to clearly explain this to your kids, but don't make it a bigger issue than it is.
Focus on biology when discussing intercourse. Keep the focus on how the male and female bodies work and how babies are formed. But also be sure to emphasize how sacred the act is.
Build the kind of marriage your kids will want to enjoy someday. Work on developing a strong marriage to provide an incentive to your kids. Motivate your kids to wait until marriage to have sex so that they can enjoy the kind of romance they see you and your spouse modeling for them.

_______________________________________________________
Adapted from A Chicken's Guide to Talking Turkey with Your Kids about Sex, copyright 2004 by Dr. Kevin Leman and Kathy Flores Bell. Published by Zondervan, Grand Rapids, Mich., 1-800-9-BOOK-IT, www.zondervan.com.

Dr. Kevin Leman is the founder of  MatchWise.com and the best-selling author of 25 books on marriage and family. A master communicator, Dr. Leman is a frequent guest on numerous radio and television shows such as The View, Oprah, Today, CNN, and Focus on the Family with Dr. James Dobson. He and his wife, Sande, live in Tucson, Arizona, with their five children.
Kathy Flores Bell is the cofounder of Carondelet Health Network's Youth Sexuality Program, on of the United States' largest hospital-based charity educational programs with an abstinence focus. She is sought nationwide to address teen pregnancy and sexuality issues and has been featured on both television and national radio. She and her husband, Michael, have four children and live in Tucson, Arizona.
Have something to say about this article? Leave your comment via Facebook below!
advertise with us
Example: "Gen 1:1" "John 3" "Moses" "trust"
Advanced Search
Listen to Your Favorite Pastors