5 Things I Lost When I Became a Parent
Debra Fileta, truelovedates.com
Friday, March 14, 2014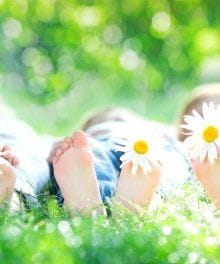 Though we've given up our hobbies for this stage of parenting, we've been blessed to find so many new adventures with our children. I love cooking for my family every day, getting creative with meals and making fun treats. John takes some time out to work with his hands, making things for out kids to enjoy rather than just going out and buying them. We've learned to make do with the time that we have and integrate our hobbies in those ways. There will be a day to drive to Starbucks and pick up my books once again …but for now, I'm going to enjoy Dr. Seuss, The Hungry Caterpillar, and All of God's Critters again, and again, and again while my little ones are snuggled close.
4. We have lost our dreams: You know, lost is a strong word. Rather, our dreams have been transformed. I remember the days of longing to travel, to see the world and write about it. The days spend dreaming of opening a home for troubled teenage girls and pouring into their lives every day. And long…long before that…dreams of playing in the WNBA (yes, this is now funny to me too…).
Though my dreams have come and gone throughout my life, most recently my dreams have been transformed. The moment I saw the precious face of my teeny little babies, I knew my dreams now belonged to each one of them. I live to make them smile, and dream about the day when they will find their purpose, joy, and significance in this world, but more importantly, in the eyes of the God who loves them more than I ever could. For now, I live to teach them those things, and my greatest dreams are for them to know that they are loved. Oh, so loved. For me, there is no greater fulfillment than that.
5. We've lost our view of God: My perspective on God has been redefined through my experience as a parent. Though I was in relationship with him, and I knew he loved me, I don't think I really grasped how ridiculously deep that love was. Having these children as an extension of who I am has taught me to love in a way that I never even knew was possible, and to give of myself in a way I never dreamed I could. To know that I serve a God who loves me in such a deep way is breath taking. He is willing to give everything for me. And he did. His love for me is ferocious, and because of this he wants me to live my life in a way that matters. He wants to fill my heart with joy.
John and I find ourselves learning lesson after lesson about God's love and grace through our daily interactions with our children. We have gotten just a glimpse of his heart in a way we never saw before–and the Father's love for us is so much greater than we could have ever imagined.
No matter where we are in life, it's so much easier to focus on what we don't have or what we've lost, instead of all that we've been given. I am so thankful for my children, and for the family God has so graciously blessed me with. Sometimes I need to remind myself of these joys, but I am thankful for a God who is willing to graciously point me to all that I have been given.
The joys far outweigh it all. For that, I'm so grateful.
Article ran originally on truelovedates.com. Used with permission.
Debra K. Fileta is a Licensed Professional Counselor specializing in Relationship and Marital issues. She, her husband and two children live in Hershey, PA. She is the author of the new book True Love Dates (Zondervan, 2013), challenging young men and women to do dating in a way that is psychologically sound, emotionally healthy and spiritually grounded. Visit www.truelovedates.com and follow her on Twitter to get your dating questions answered and to learn more.
Publication date: March 14, 2014
Have something to say about this article? Leave your comment via Facebook below!
advertise with us
Example: "Gen 1:1" "John 3" "Moses" "trust"
Advanced Search
Listen to Your Favorite Pastors