How to Raise Selfless Kids in a Self-Centered World
Whitney Hopler, Crosswalk.com Contributing Writer
Friday, May 31, 2013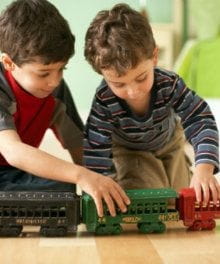 Editor's Note: The following is a report on the practical applications of Dave Stone's new book, How to Raise Selfless Kids in a Self-Centered World (Thomas Nelson, 2013).
It's challenging to raise selfless kids in this fallen world, because doing so is countercultural. Selfish attitudes are so embedded into the fabric of our culture that parents have to be intentional about training children to learn the selflessness God wants them to develop.
If you take the challenge to teach your kids how to look beyond themselves and serve others, you can count on God's help every step of the way. It's important to God that your kids become selfless because, in the process, they'll become more like the greatest servant of all: Jesus Christ.
Here's how you can raise selfless kids in a self-centered world:
Take an honest look at the life you're modeling. How well are you personally showing your kids what a selfless life looks like? Keep in mind that your children likely won't learn to be selfless unless you are first, since you're an important role model for them. Ask God to show you any areas of your life in which you're currently self-absorbed. Once you've identified them, confess your selfish attitudes and behaviors and pray for the strength you need to become more selfless in those areas. Develop a habit of praying often for the ability to develop more compassion and generosity in your life.
Teach your kids to honor other people by putting them first. Show your kids the importance of putting others in the limelight rather than seeking attention for themselves. Every day, point out opportunities to perform acts of kindness to help people whenever they notice a need they can help meet, cooperate with people rather than arguing with them, interact with good manners, and encourage people who could use someone to cheer them on. Let your kids know that God notices and appreciates even small acts of love, such as inviting someone who's sitting alone in their school cafeteria to join them for lunch, or working out a conflict with one of their siblings at home.
Help your kids develop pure motives for serving others. While our culture sends children the message that they should serve other people only in order to get something for themselves in return, God calls them to serve others out of pure motives. Teach your kids that serving out of pure motives involves being willing to honor God and express love by serving: when there's no benefit for them other than the sense of joy God gives them, when no other people are watching, when those they serve don't show appreciation, and when sacrifices are necessary to keep a commitment to serve.
Point out opportunities for your kids to serve others. Help your children notice the many opportunities that God gives them daily to serve other people – from doing a household chore to help your family, to volunteering for a community service project that particularly interests them. Alert them to specific ways they can help and encourage and support them as they incorporate service into their lifestyles.
Focus more on your children's character than you do on their accomplishments. Let your kids know that who they are is more important to you than what they do. Compliment your kids whenever you notice them displaying godly character traits (such as integrity, respectfulness, and compassion) through their words and actions. Emphasize the importance of developing good character more than pursuing achievements through school or extra-curricular activities (like sports or music). While encouraging your children to do their best with their achievements, let them know that what matters most is simply the kind of people they're becoming, regardless of what they do or don't achieve.
Have something to say about this article? Leave your comment via Facebook below!
advertise with us
Example: "Gen 1:1" "John 3" "Moses" "trust"
Advanced Search
Listen to Your Favorite Pastors