What the Amish Can Teach Us about Family Life
Whitney Hopler, Crosswalk.com Contributing Writer
Monday, September 26, 2011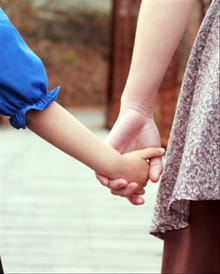 Editor's Note: The following is a report on the practical applications of Suzanne Woods Fisher's book, Amish Values for Your Family: What We Can Learn from the Simple Life, (Revell, 2011).
Amish people tend to build strong families. They rarely divorce, report that they enjoy spending time together, and often see their children choose to remain faithful to Christ after they grow up.
But you don't have to be Amish to build a strong family. The success that the Amish experience in their family lives doesn't come from joining a particular denomination; it comes from living by certain values. If you learn from their examples and apply those same values to your own family, you can strengthen it. Here's how:
Give your children the best gift of all: time. Make spending time with your children a high priority when you're making lifestyle choices and planning your schedule. The Amish spend lots of time with their children, and children want their parents' time more than anything else.
Teach your children new skills. Give your children as many opportunities as possible to learn new skills – from cooking to carpentry – just like the Amish do. Keep each of your children's interests and talents in mind, and try to teach them skills that will help them do what they'd like to do and can do well, as well as practical skills that will help prepare them for adulthood.
Include your children when you're serving others. Rather than getting childcare for the times you're doing volunteer work to help people in need, include your children whenever possible. Let your children work alongside you doing age-appropriate tasks and seeing firsthand how volunteer service changes people's lives for the better.
Turn off stress by turning on humor. When you're feeling overwhelmed by stressful circumstances, take a cue from the Amish and look for the funny side of the situation, which will release some of the stress of dealing with it.
Enjoy close relationships with extended family members. Amish people are often close to people in their extended families, such as grandparents, in-laws, aunts, uncles, and cousins. Instead of focusing primarily on your nuclear family (only your spouse and children), reach out regularly to extended family members. Honor the elder members of your family by including them in your family's activities as much as possible rather than regulating them to the background.
Enjoy strong friendships with others in your community. The Amish community is a close one because neighbors develop strong friendships. They get together often to enjoy fun activities (like game nights), they worship together, and they drop everything to help when their neighbors are hit with a crisis and need practical assistance and prayers. Make it a high priority to reach out to others in your local church and neighborhood to build strong friendships that will bless you all.
Fight materialism with contentment. Follow the Amish example of viewing money and the material things it can buy merely as tools to use when appropriate rather than ends in themselves. Ask God to help you be content, no matter how much your family's financial income is or how much stuff your family owns. Be sure to keep this value in mind during the Christmas season, since it can help you stay focused on worshipping Christ rather than buying things.
View your family as a team that works together to achieve common goals. Expect every family member to share in the responsibility of the errands and household chores that must be done to create and maintain a healthy home. Let everyone know that their work is valued. Encourage all family members to respect each other and work to resolve conflicts peacefully. Emphasize that all of you are working to serve God and each other for mutual benefit.
Have something to say about this article? Leave your comment via Facebook below!
advertise with us
Example: "Gen 1:1" "John 3" "Moses" "trust"
Advanced Search
Listen to Your Favorite Pastors