Learn from Your Parenting Mistakes
Whitney Hopler, Live It Editor
Tuesday, December 13, 2005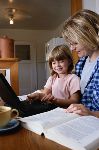 No matter how hard you try, you can't be a perfect parent. But there is a perfect parent – God – who will help you learn from your mistakes and give you and your children the grace to grow.
Here's how you can learn from your parenting mistakes:
Expect to make mistakes. Give up trying to be perfect. Understand that everyone in our fallen world makes mistakes naturally. Expect that you'll make plenty as you take on the challenging role of parenthood – and know that it's okay to do so.
Recognize the value in mistakes. Realize that making mistakes is an important part of the learning process. Mistakes cause you to reflect on your thoughts and feelings about situations, motivate you to seek God's help, point out specific areas on which you need to focus your attention, and more. Remember that God will use your mistakes to bring about good results in your life if you trust Him. Acknowledge that He can do anything – even more than you can ask or imagine according to His power at work in you.
Let your children see you admit your mistakes and ask God's forgiveness. Don't try to hide your mistakes from your children. Be honest with them. Show them what faith in action looks like by admitting when you're wrong and praying for forgiveness and the grace to do better in the future.
Remember that your children ultimately belong to God. Understand that it's God – not you or any other person – who is in control of your children's future. Know that He can cause your children to turn out just fine, in spite of the mistakes you make while raising them.
Praise your children often. No matter what mistakes they make, let your children know that you love them unconditionally. Show them God's grace in action by frequently encouraging them with words of blessing (communicating your acceptance and affirmation whenever an opportunity arises to do so). Don't take especially obedient children for granted; let them know how much you appreciate them. If you're struggling to praise difficult children, pray for wisdom, make every effort to catch them doing something good, concentrate on positive behaviors while trying to ignore some of the negative ones, picture a better future for them, and intercede in prayer for them. Clearly communicate in tangible ways to each of your children that they're precious, God-given treasures to you.
Don't be too serious. Think and pray about your expectations of both yourself and your children to make sure they're realistic. Remember that God wants you to enjoy your children. Intentionally have as much fun with them as you can. Laugh together. Play games together. Don't try to make your children grow up before their time. Celebrate each day you have with them.
Avoid preaching. Realize that children usually won't pay attention to long lectures. Carefully choose the times in which you share your views and express your concerns. Make sure you speak in a calm and respectful tone of voice. Speak the truth with love and kindness.
Make time for your children. Realize that your children desperately need your time and attention as they grow up, and that your loving presence will often supersede mistakes you make. Don't be too busy for them. Periodically evaluate your schedule and priorities and ask yourself questions such as: "Is the plan I'm following during this season of my life God-ordained or self-ordained?", "Am I putting my family first or am I preoccupied with my own agenda or career?", "Am I allowing others (school and daycare) to raise my children?", "Am I permitting my children to be too busy with their activities?", and "Have I consulted God before agreeing to do something or before accepting a position?". Ask for God's guidance in prayer and listen to how He speaks to you about your wisely managing your time.
Have something to say about this article? Leave your comment via Facebook below!
advertise with us
Example: "Gen 1:1" "John 3" "Moses" "trust"
Advanced Search
Listen to Your Favorite Pastors