Raise Your Children Well in a Blended Family
Whitney Hopler, Live It Editor
Tuesday, November 21, 2006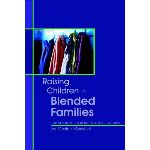 The following is a report on the practical applications of Maxine Marsolini's new book, Raising Children in Blended Families, (Kregel Publications, 2006).

Although blended families are now nearly as common as traditional families, they're much more complicated. Parents and children trying to build a new family on the ruins of a previous one can become overwhelmed with emotions and find it hard to resolve problems.
You can overcome the unique challenges of raising children in a blended family, however. Here's how:
Make peace with your past. Pray often for God to give you and all your other family members peace. Seek healing from God for your past suffering and His forgiveness for your past mistakes. Deal with your grief and encourage your children to fully express their own grief, with the help of a professional counselor if necessary. Let go of whatever you can't change and begin to concentrate on what you can do to align yourself with God's plan for your family.
Keep the future in mind. Remember that your words and actions today impact your family's future. Before making decisions, ask yourself how what you do today will likely affect your children in several months, a year, or many years from now. Rather than simply reacting to life as your emotions lead you, decide to live intentionally, with good purposes in mind.
Be patient. Understand that it will likely take several years to develop solid relationships within your blended family. Give yourselves plenty of time to get to know each other and build your new family's history together. Don't force close relationships right away; bear with each other so you can gradually build close bonds. Be sensitive to when the time is right for each family member to move forward in relationships.
Listen well. Value the thoughts and feelings of each family member – even the youngest children. Make time regularly to genuinely listen to what they're saying, validate what you hear, and act on their ideas in constructive ways. Let everyone in your family know that they have a real voice in your life together.
Lighten up. Don't let the serious issues you're dealing with steal your joy in everyday living. Accept your life, pray for peace about it, and decide to move into the future with a positive attitude fueled by hope in God's good plans for you. Have fun and laugh together as often as possible.
Stop being your ex-spouse's enemy and start being an ally. Never make your children choose between loving their mom and loving their dad. Know that it's healthy for them to love both of you. Give them time to spend with each of you. Don't speak negatively about your ex-spouse or fight with him or her in front of your children. Ask God to help you maintain an amicable relationship for the sake of your children's emotional health.
Be a smart stepparent. Realize that a lot of your blended family's bonding depends on the way you integrate into the family. Know that your role matters so much that you can make or break the family. Choose to be sensitive to others' needs. Demonstrate acceptance and be quick to forgive. Support the birth parent's parenting style and let him or her (not you) be the primary disciplinarian. Let go of selfish habits, jealousy over another parent or child, and control games. Manage your anger in healthy ways. Don't try to replace the parent your stepchildren have lost. Move into the family gently and slowly. Try not to favor your own children over your stepchildren. Spend one-on-one time with each child, perhaps by helping with a homework project or going on a fun outing together. Start to build a future together in positive ways, such as by adopting a new family pet. Nurture your marriage by making regular dates a priority. Plan fun times the whole family can enjoy together. Be willing to get help from a professional counselor if your family's problems are too stressful to handle yourselves.
Have something to say about this article? Leave your comment via Facebook below!
advertise with us
Example: "Gen 1:1" "John 3" "Moses" "trust"
Advanced Search
Listen to Your Favorite Pastors