Five Foundational Principles to Help Single Parents
Gary Sprague, Center for Single-Parent Family Ministry
Tuesday, September 18, 2012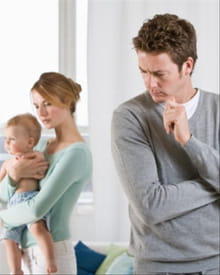 Editor's note: This article can be found in its original format at the Center for Single-Parent Family Ministry.
In Page, Arizona there is a bridge spanning a grand expanse called the Glen Canyon Dam Bridge. This structure holds back water from Lake Powell and regulates its flow into the Colorado River as it rushes along the Grand Canyon floor. On a recent visit, I coaxed my three older kids to walk with me over the bridge. While on the bridge, God gave me a vision for Single Parent Family Ministry.
On the south rim I saw hundreds of thousands of single parents with their children at different stages along their single parent family journey. On the north rim I saw the hope and healing from pain, trouble and tears that can only be found in Christ. A vast chasm separated the single parent families from Christ's hope and healing. The vision was for the church to become the bridge that connects the two.
I believe that we as leaders (both paid and volunteer) have a great opportunity to "be the bridge" and walk single parents and their children from despair to hope and from pain to healing. Living life as a single parent is a journey with markers along the way to chart the course. This article will describe five of those markers—pauses on the journey that allow single parents to measure their progress and take certain truths to heart. Leaders who can help single parents to implement these life-changing principles will be well on their way to becoming the bridge towards hope and healing. Jump in and BE THE BRIDGE!
Principle #1: Tell Kids the Truth
Most kids who live in single parent or blended families are hurting. They no longer feel like part of a family. They want their parents to get back together—to go back to the way things were in a happier time. They feel isolated, alone, without opportunities to talk out their fears and feelings. I believe they need to know why and how this all happened to them.
If asked, parents should tell these children the truth about why they live in a single parent home. Answer the question, "Why did my mom (or dad) leave?" If death took a parent away, kids need to know how their parent died. They also need to know when so the date of death can be commemorated.
If it was a divorce, children need to know that it was not their fault. The main reason children think that the divorce was their fault is because nobody has told them the reasons for the divorce. If it is a separation, explain what is happening and reassure them that they will still be loved and cared for even though the marriage is in limbo. If their mother and father were never married, they should be told the circumstances surrounding the pregnancy. Leave no doubt in the child's mind that the circumstances of their birth had nothing to do with anything the child did.
Use the following tips to help single parents talk with their kids truthfully:
Tell them the truth before they hear it from someone else! If you don't, you also risk having to deal with issues of trust and respect.
Focus on the behavior, not on assassinating the character of the other parent. Attacks on character will have negative consequences and may ultimately harm your child.
Let the kids lead the conversation. Kids who are quiet may need help in breaking through their blocked emotions. Encourage the children to ask questions—the hard questions. If their questions make you want to cry or get angry, set up a later time when you can control your emotions better—but keep the appointment.
Sometimes what kids say isn't really what they want to ask. A kid who says "I hate you!" usually doesn't mean it! What he means is that he feels safe enough with you to express his emotions, even when he doesn't understand what is making him feel the way he does. Try to get him to tell you more.
The best way to talk about the changes that have happened in the family (or are about to happen) is to have both parents sit down with the kids and tell the same story. If this won't work, give the former spouse opportunities to "come clean" with the kids before you do it for him or her. If you are the one to tell the kids about their mom or dad's behavior, keep your emotions in check (you need to find a safe adult to share those feelings with).
Time and truth walk hand in hand. The kids will ask over and over about what happened. As they mature, you need to give more information on the way to full disclosure.
Principle #2: Encourage Visitation
Recently on Single Parents
Have something to say about this article? Leave your comment via Facebook below!
advertise with us
Example: "Gen 1:1" "John 3" "Moses" "trust"
Advanced Search
Listen to Your Favorite Pastors