Five Foundational Principles to Help Single Parents
Gary Sprague, Center for Single-Parent Family Ministry
Tuesday, September 18, 2012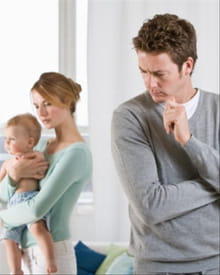 If at all possible, kids need to have a relationship with both birth parents. Kids long to have a relationship with both parents—it's how God designed us! Don't sabotage that longing because of your own emotions. Kids place such a high value on relationship with both parents that if either parent tries to inhibit contact, watch out for a backlash!
Kids have the right to have a relationship with both parents. Visitation opportunities should be encouraged and should not be used as a weapon against a former spouse. Disagreements about issues such as lifestyles, movies, foods, bedtimes, discipline, live-in girlfriend/boyfriend might not necessarily be good enough reasons to stop the visits. Encourage single parents to find godly counsel to try to resolve these tough issues.
Perhaps of even higher priority is safety. Kids should never be put at risk. Providing for safe situations is the responsibility of both parents. Be careful to separate out situations that are truly a safety issue with those things that are just outside of a parent's comfort zone. Encourage single parents to be realistic about situations that they can and can't control.
Principle #3: Learning to Let Go
Single parents who constantly worry and try to control everything that goes on when the kids are with their former spouse are wasting both physical and emotional energy. That energy would be better spent on investing into the lives of their children when they have them in their own house.
Most of the success of this principle depends on giving up control and allowing God to step in. Perhaps it is a lack of faith that keeps them in the 'control zone' where they feel a need to control everything. As church leaders, you may need to help them find the right answers to these questions: Does God love their children? Can He take care of them when they are 'over there?' (Remember, we are not talking about turning our eyes and ears away from someone or something that would bring harm.) We are talking about that age old prayer: God, grant me the serenity to change the things that I can change, to accept the things that I cannot change and the wisdom to know the difference.
Principle #4: Modeling Forgiveness
This is probably the most difficult principle to implement. It is also the one principle that when implemented, will produce the most life change.
Single parents should be encouraged to start by asking their kids for forgiveness! Parents forget that they might need to do that. "I'm sorry for the pain that I have caused you. I did not mean for this to happen, but I know that it hurts. Will you please forgive me?" These are empowering words to children in single parent homes created by divorce. This is not an opportunity to get into how much more responsible the former spouse is for their child's pain. The quality of their former spouse's relationship with their kids is his or her responsibility.
Next, kids need to see forgiveness modeled in the actions and attitudes expressed toward the former spouse. Kids need to know that even after all the fighting, conflict, tears and anger, forgiveness is still possible. Modeling forgiveness to their kids by forgiving the former spouse is a process that may take years, but it all starts with an act of the will. Choose to forgive. Release the bitterness. Whether or not the former spouse cares or responds isn't important—there is comfort and freedom in exercising forgiveness.
Principle #5: One is a Whole Number
Recently on Single Parents
Have something to say about this article? Leave your comment via Facebook below!
advertise with us
Example: "Gen 1:1" "John 3" "Moses" "trust"
Advanced Search
Listen to Your Favorite Pastors