The Single Mom and Her Rollercoaster Emotions
Pam Kanaly, Co-founder, Arise Ministries
Thursday, April 10, 2014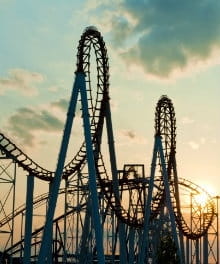 It's here and I'm so excited! A book for you as a single mother, pinpointing eight difficult emotions you encounter on your single mom rollercoaster, along with God's answers found in his Word.
Friends, I've discovered one thing as an author. Unless your audience believes that you know how they feel, they will not listen to what you say. As women, we like to know that someone relates to our hurts, our fears, our limitations. Amen? I know from personal experience what it feels like to wrestle with the unresolved emotions of fear, anger, and more. I've traipsed the road before you and found solutions in Christ. I'm excited to bring you alongside my twenty-five years of single-parent ministry and reveal the Father's answers for those issues that keep you tied in knots. Won't you join me in this journey toward emotional and spiritual recovery, one chapter at a time?
Chapter #1: From the Doom of Devastation to Accepting 'What Is.' Did you find it difficult starting life all over again as a single mom? I did! Why is single motherhood such an overwhelming reality? How can we learn to accept "what is" when we wish for "what was" or "what will be?" God's Word encourages, I would have despaired unless I believed I would see the goodness of the Lord. Wait; be strong, and let your heart take courage (Psalm 27:13-14).
Chapter #2: From Fear of the Unknown to Trusting in God. I've never seen a single mom who did not struggle at some point with fear of the unknown. Physical challenges are difficult enough, but the emotional whitecaps that break over the top feel like the final blow in holding you under. God has an answer for those insecurities, inferiorities, and impossibilities. Psalm 34:4 comforts – I sought the Lord, and he heard me, and delivered me from all my fears.
Chapter #3: From the Quagmire of Anger and Bitterness to the Release of Forgiveness. Did you know that anger is not a bad thing? Discover with me the components of bitterness and God's release through forgiveness. Ephesians 4:32 - Make a clean break with all cutting, backbiting, profane talk. Be gentle with one another, sensitive. And forgive one another as quickly and thoroughly as God in Christ forgave you. "Is that possible?" It is! I know firsthand.
Chapter #4: From the Jitters of Anxiety to Resting in God's Peace. What makes you anxious? Finances? The children? Another relationship? God's Word is true: An anxious heart weighs a man down. Anxiety can feel like our worse enemy when it interferes with daily life. If left unsettled, it creates critters in our brains more destructive than termites. Discover four steps that bring relief to the pest called - "worrymites."
Chapter #5: From the Wilderness of Loneliness to Practicing God's Presence. Ninety percent of single moms surveyed admitted to suffering from loneliness. Are you one of them? God's given us his alphabet of help in dealing with this feeling of alienation. Join me in learning the ABC's of taming this painful reality called loneliness. There's encouragement in God's Word. All deserted me, but the Lord stood with me and strengthened me (2 Timothy 4:16-17).
Chapter #6: From the Falsehood of Low Self-Worth to Knowing Your Identity in Christ. Do you feel like you don't matter? Compound that with feelings of rejection, and you'll find yourself swallowed up in a giant-size bubble of insecurity and lowliness. But the truth is this: you can emerge as a woman walking in the fullness what God says about you. You are not who you think you are; you are much much MORE!
Recently on Single Parents
Have something to say about this article? Leave your comment via Facebook below!
advertise with us
Example: "Gen 1:1" "John 3" "Moses" "trust"
Advanced Search
Listen to Your Favorite Pastors