Teaching Kids to Love God: From Theory to Practice
David & Kelli Pritchard, Authors, Going Public
Tuesday, August 26, 2008
Does "familiarity breed contempt"? No. Actually, we find that the older kids enjoy our Bible readings more as the years go by. They look forward to verses they can finish by memory. They also come up with new applications. More than once we've heard one of them say, "I don't remember that being in there!" In these aha! moments, the verse finally becomes the living Word of God to them.
None of us who call ourselves Christian should be arrogant to assume that just because we've read a certain passage in the past, we've now "got it." The power of the Bible is that it is evergreen, always speaking afresh to our condition.
Springing from this "evergreen" quality of God's Word is its unique ability to convey values and shape behavior. We heard about one missionary in Mongolia, of all places, who said that followers of Tibetan Buddhism there found Proverbs in particular appropriate for shaping the character of their young people. These Buddhists felt it would make their sons and daughters more responsible, self-disciplined and industrious in adulthood. The missionary said, "In this culture, I have come to believe that if the gospel is the Seed, the book of Proverbs is a useful plow to break up the hard soil, so the Seed can find a place to sprout and grow."
Along the way, we have realized a few great by-products of our morning custom. One is that it gives our kids great practice at reading out loud. We see right away how they're doing at recognizing words and enunciating them, without mumbling. If one of our kids needs help in this area, we catch it right away.
Another "perk" is the opportunity to build vocabulary. We have to stop and talk, for example, about what the word "prudent" means (our kids assumed at first that it was an adjective related to "prude" until we looked it up together!). When we hit terms such as "chaste" or "humility" or "perpetual," we make sure the meaning is clear to our kids. Kelli has a famous line at such moments: "This could show up on the SAT! We'd better find out what this word means!" Everybody goes, "Yeah, Mom," but their vocabularies are enhanced nevertheless.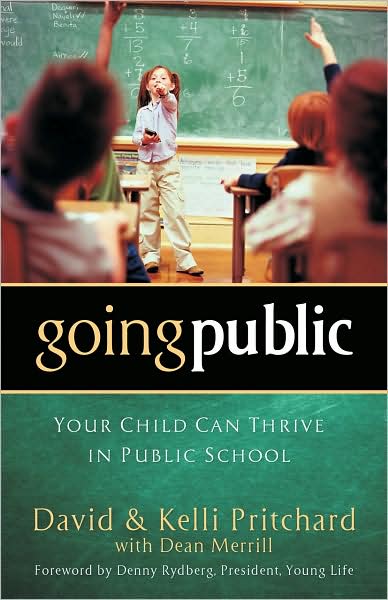 From Going Public © 2008 by David & Kelli Pritchard. Published by Regal Books, www.regalbooks.com. Used by permission. All rights reserved.
---
David Pritchard is a nine-year veteran of Young Life youth ministry. He currently serves as area director in the south suburbs of Tacoma, Washington, and as camp manager of Young Life's largest summer camp. Kelli Pritchard has degrees in secondary education and in social work. The Pritchards have been influential in the lives of dozens of young people in their home and lead weekend parenting conferences. They are also cofounders of a community action group to work for improvement in the local school district.
Learn more at
http://www.pritchardministries.org/
Have something to say about this article? Leave your comment via Facebook below!
advertise with us
Example: "Gen 1:1" "John 3" "Moses" "trust"
Advanced Search
Listen to Your Favorite Pastors