6 Ways You Can Encourage Your Daughter to Dream
Cindi McMenamin, Author
Tuesday, November 05, 2013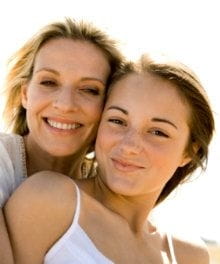 Your daughter may know more than anyone else when it's time to take a break from something and move on to something else. (Or when it's crucial to stick with something that you don't necessarily feel is worth the time, trouble, or money.) Yes, to excel means hard work. But if she is involved in something she truly doesn't enjoy, then it's not for her. Her dream is something she will want to do, no matter what. And if she drops out for a season, she will return to it again when the timing is right, if it really is something that is leading her to God's dream for her.
4. Lighten Up
I don't say this to sound harsh. I say it because we, as moms, can sometimes overdo it when it comes to helping our daughters pursue a dream...or pursue something we believe must be their dream. We can unintentionally get to the point where we are pushing. By becoming our daughter's cheerleader we can sometimes be so into what they are doing that we unintentionally convey to them that it's more important how they do, than what they do. Learn to back off now and then and see if your daughter is pursuing a dream because it's on her heart, or because it was on yours.
5. Live it Out in Front of Her
Monica, who now has children in their teens, says: "My mom has and continues to inspire me to beat the odds and to never give up, not so much in words that she has said, but in the way she lives her life. She has inspired me to never let my fears be bigger than my dreams and to chase after the dreams and desires that God has placed in my heart."
Is your daughter seeing you pursue your dream and live it out? If not, what can you do to model to her that you fully believe God can accomplish anything in her life that she gives to Him in faith?
6. Let God into the Process
I was a little fearful when my daughter expressed an interest in attending an acting school in Hollywood right after high school graduation. I was concerned about all the 'what ifs' and if that was the best environment for her. But God eventually made it clear to her what He wanted her to do and I didn't have to be the one to do any arguing or convincing.
If your daughter is leaning toward an area that concerns you, talk to God about it first. Philippians 4:6-7 encourages us in this regard:
"Don't worry about anything; instead, pray about everything. Tell God what you need, and thank him for all he has done. Then you will experience God's peace, which exceeds anything we can understand. His peace will guard your hearts and minds as you live in Christ Jesus" (NLT).
Make it a habit to be in prayer about your daughter's dream. God will make a way for her or clear her out of it if she's merely being distracted.
Cindi McMenamin is a national women's conference and retreat speaker and the author of a dozen books, including When Women Walk Alone (more than 100,000 copies sold), When a Woman inspires Her Husband, and When a Mom Inspires Her Daughter, upon which this article is based. For more on her books and ministry, or to download her free article "Suggestions for Mother-Daughter Memory-Making" see her website: StrengthForTheSoul.com.
Publication date: November 5, 2013
Have something to say about this article? Leave your comment via Facebook below!
advertise with us
Example: "Gen 1:1" "John 3" "Moses" "trust"
Advanced Search
Listen to Your Favorite Pastors