How to Help Your Teen Make the Right Choices About Dating
Whitney Hopler, Crosswalk.com Contributing Writer
Tuesday, November 13, 2012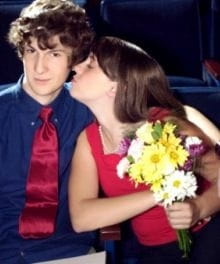 Editor's Note: The following is a report on the practical applications of Nicole O'Dell's new book, Hot Buttons: Dating Edition (Kregel, 2012).
The choices that you and your teen make about dating can significantly impact your teen for the rest of his or her life. There's too much at stake to approach the issues involved without preparing for them.
So seek God's help to prepare the best strategy for handling teen dating in your family. Doing so will help protect your teen from unnecessary heartache and encourage your teen to fulfill God's purposes for his or her life. Here's how you can help your teen make the right choices about dating:
Educate yourself about what your teen is thinking and feeling. Spends lots of time with your teen, ask your teen questions about his or her life, and listen carefully to the thoughts and feelings that he or she expresses to you. Ask your teen questions about what he or she thinks and feels about dating, and why. Ask God to help you develop the kind of relationship with your teen in which your teen will feel safe openly and honestly discussing dating topics with you. Pay attention to the physical and emotional changes that your teen goes through.
Let your teen know why it matters to follow God's principles for dating. Read the Bible with your teen and discuss the importance of biblical principles that apply to dating and marriage, as well as how your teen can apply those truths to his or her life. Ask yourself these questions in the process: "Have I prayed over the topic before bringing it up to my teen?", "Am I taking biblical ideals and making them relevant issues for a teen?", "Am I using too many personal examples or lectures?", "Does my teen feel free to ask questions?", "Am I prepared to give or find answers if my teen asks questions?", and "Am I offering application techniques, or just handing down rules?".
Encourage your teen to make and honor commitments about dating. Decide before your teen finds himself or herself in a pressure-filled situation what he or she plans to do to uphold your family's values about dating. Then urge your teen to commit to staying true to those values and implementing specific strategies to do so. For example, if your family decides to allow only supervised or group dates for your teen, decide ahead of time what your teen should do if he or she unexpectedly ends up alone with a date – such as leaving and calling you to pick him or her up immediately.
Let your teen know that he or she isn't alone in the battle to do what's right. Tell your teen that he or she can always count on you to help with dating issues any way you can, and that you'll constantly be supporting your teen in in prayer because you care. When challenges arise, keep in mind that your battle is against Satan and his evil spiritual forces – not against your teen. So when you're concerned about a dating issue, pray about it rather than arguing with your teen about it. Share your own honest stories of standing up for your convictions with your teen so he or she can see that following Christ isn't simple for you either, but it's worthwhile.
Evaluate how you communicate with your teen. Your teen needs you to relate to him or her as an authority figure, not a friend. Make sure that your communication style reflects the loving authority that God wants you to have with your teen.
Evaluate your rules and expectations. Ask God to help you discern whether your rules are strict enough or too lenient for your teen, and to empower you to make whatever changes you need to make to hold your teen accountable to God's standards for his or her life. Expect the best from your teen – just as God does – and trust that God will help your teen grow to live up to those expectations.
Have something to say about this article? Leave your comment via Facebook below!
advertise with us
Example: "Gen 1:1" "John 3" "Moses" "trust"
Advanced Search
Listen to Your Favorite Pastors