How to Respond When Your Child is Caught Viewing Porn
Mike Genung, Founder, Blazing Grace
Monday, October 08, 2012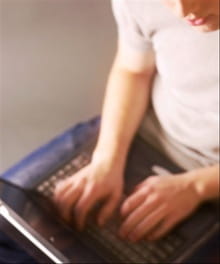 When you discover your child has been exposed to porn (I say when because the odds are heavily stacked that it will)...
Don't freak out.
You want your child to feel safe with you so they feel free to discuss anything. If you condemn or shame them, they'll shove sex into their "never discuss with Mom and Dad" closet, increasing the risk of retreat into the secret fantasy world of porn addiction. Isolation breeds lust; it's critical that the doors of communication are kept wide open.
Maintain a kind, compassionate tone.
If you need to, take some time and calm your emotions before sitting down with your child. Talking it out with your spouse can help. Pray. Don't go at it with a full head of steam.
Remember the goal…
…which is to help, guide, and walk with your kids in their journey through adolescence. Many children will be confused—and terrified of what your response might be. Think of how you'd want your parents to react if you got caught viewing porn, and how a grace-centered approach would help.
Focus on listening.
Talking too much up front can start things off on the wrong foot; especially if you're lecture-prone. Start by asking questions. Calmly ask how they were first exposed to porn and how long it's been going on. Ask how it makes them feel… especially if there's shame afterwards. Ask if they've stimulated themselves. You want your son or daughter to feel heard and accepted; this will have the effect of releasing them from the burden of shame and fear. Their answers may lead to more questions; play that out. You may discover that they hate what they've seen and are relieved to be able to open up with you, which will open the door for your input on how to deal with the problem.
Without going into lecture-mode, remind them of the truth of God's plan for sex.
You might point out that the actors and actresses in porn hate what they're doing and many of them are drunk or on drugs when they're "acting." Help your child to see the lie behind the fantasy and discuss the fact that sin never satisfies.
Put them at ease.
They've not committed the unpardonable sin; if they were inadvertently exposed to porn they haven't sinned at all. Re-emphasize your love for them. If they've been viewing porn for an extended period of time, help them to understand that Jesus died for and will forgive them; the slate will be wiped clean, along with all the guilt and shame.
Pray with them.
Lead your child in prayer, asking God to cleanse them of everything they've been exposed to. Confess sin with them. Bringing the Lord into your conversation may be one of the most poignant moments of your time together. If your child prefers, you can say the words and they can repeat them. Thank the Lord for His forgiveness immediately after confessing any sin so they get a sense of closure.
Make an action plan with them.
Ask your child for suggestions for an action plan so they can resist temptation in the future. This will help them take ownership for their actions and give them a sense of working with you, instead of "My parents are coming down on me." They could also pleasantly surprise you with some ideas you hadn't thought of.
Here are the basics:
1. Cut off the stumbling blocks (Matthew 5). Assuming they've been viewing porn on a PC or their phone, get an ap/software solution that will prevent this. If video games, movies, or a friend is the problem, take action, even if it means throwing away treasured items and/or severing a relationship.
Have something to say about this article? Leave your comment via Facebook below!
advertise with us
Example: "Gen 1:1" "John 3" "Moses" "trust"
Advanced Search