Technology: Helping or Hurting Our Boys?
Gregory L. Jantz, Michael Gurian
Tuesday, October 08, 2013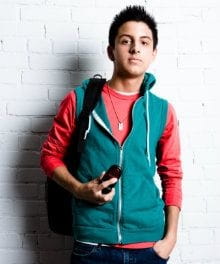 What's Happening in Your Family?
For better or worse, each of us develops a relationship with technology, and that relationship can be life enhancing and useful. At the same time, a reliance on technology can create issues such as disconnect anxiety; that is, feelings of disorientation and nervousness when we are deprived of Internet or wireless access for a period of time. Because our sons' culture (and our own) has become so tethered to technology, so dependent upon our link to the Internet, we can feel psychologically adrift when we're disconnected. Being offline can seem wrong and slightly disturbing. In this and other ways, our sons can get into some dangerous situations through their connections with technology.
This is about helping you gauge what amount and quality of technology use can help you nurture your son's design so that he thrives. To gain the most from the insights we'll be sharing, you might want to add a media journal to your ongoing study notes and journal, or you might start a separate media journal for a one- or two-week period. In it, record your son's media use (of course, this is a great thing to do for your daughters as well): iPod, smartphone, computer, television, game systems, movies, tablet, and any other screen-oriented media. Gauge where your son and family are in comparison to the national statistics.
Startling Statistics
Here are just a few statistics from the Henry J. Kaiser Family Foundation study on media in the lives of eight- to eighteen-year-olds. These are statistics we all need to know and discuss together!
Eight- to eighteen-year-olds spend almost eleven hours a day exposed to media: almost four and a half hours of television, two and a half hours of music, one and a half on computers, over an hour on video games, with less than an hour exposed to print or movies.
Average media exposure by age: almost eight hours per day for eight- to ten-year-olds; almost twelve hours per day for eleven- to fourteen-year-olds; and around eleven-and-a-half hours per day for fifteen- to eighteen-year-olds.
Almost two-thirds of the study participants reported having the television on during meal times, and almost half said the television stayed on most of the time, even if no one was watching.
Almost three out of four of these eight- to eighteen-year-olds reported having a television in their bedrooms.
Roughly six out of ten said they had no rules when it came to how much time they spent on the computer or playing video games.
Most seventh- to twelfth-graders reported their parents had not established any rules regarding cell phone use. Only 27 percent said they had rules about how much they talked on the phone, and only 14 percent said they had any rules about the number of texts.
Why It Seems Everyone Has One
In the Kaiser Family Foundation study, 66 percent of eight- to eighteen-year-olds in 2009 had a cell phone. This was up from 39 percent just five years earlier. What about now? According to the National Consumers League's 2012 study entitled Parents, Tweeners, and Cell Phones: Attitudes and Experiences, over half (56 percent) of eight- to twelve-year-olds had been given cell phones by their parents, with 60 percent of those phones given during what they term the "sweet spot" for starting cell phone use—ten and eleven years old.
John Breyault, vice president of public policy for the National Consumers League said, "Before the training wheels are coming off their bikes, many children are getting their first cell phones."
Also, according to the Kaiser study, "The cell phone has rapidly cemented its place as a media delivery platform for young people." Kids now spend more time using their cell phones to listen to music, play games, or watch television than using their cell phones to talk.
Have something to say about this article? Leave your comment via Facebook below!
advertise with us
Example: "Gen 1:1" "John 3" "Moses" "trust"
Advanced Search
Listen to Your Favorite Pastors