What Happens When Your Teenager Doubts
Jennifer Slattery, JenniferSlatteryLivesOutLoud.com
Tuesday, October 29, 2013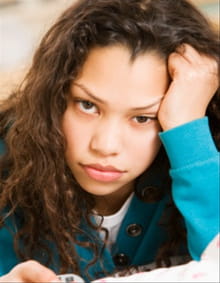 It's what parents of faith fear most; what we'll train, teach, and pray against from the moment we conceive until we leave this earth.
Our most deeply felt goal? That our children would grow to love and serve our Savior with every fiber of their being. But what happens when our children begin to question those very truths we build our families upon? Is it our fault? Will they reject the faith? Is there anything we, as parents, can do to buffer them from unbelief?
These were the very questions Rhonda* wrestled with when her fifteen year-old-son came to her with some difficult questions. After years in the church, mission trips and youth group events, and countless Sunday school classes, suddenly, doubts arose. "How do we know Christianity is real?" Clint* asked. "How do we know our religion is better than all the others? What if we're praying to the same God but using a different name?"
Rhonda's first reaction was panic. But then, her nerves began to settle and God showed her Clint's questions weren't dangerous. They were normal. In fact, according to Joe Nelson, Student Pastor at Ridgecrest Baptist Church, it's healthy for teens to ask these types of questions. "I believe it forces them to a deeper level of faith," Nelson says, "and to test everything we've been taught instead of just taking it at face value."
The question is not, does your child have doubts, but rather, whom do they turn to when doubts arise. The Bible is full of men and women who doubted, from Sarai, Abraham's wife who couldn't fathom how God could grant her, a barren old woman, a child (Genesis 18:1-15), to the apostle Peter, a man who refused to believe Jesus the Messiah would soon die (Matthew 16:13-23). Consider two vastly different biblical characters, both who doubted. First, we have Judas, a man who, upon encountering Jesus, quickly became an apostle but will forever be known as the one who betrayed the Christ. Why? The Bible doesn't say explicitly, but when we read the gospels, I believe we can see seeds of doubt that exploded into betrayal. Ultimately, Jesus didn't fit Judas' mold of what the promised Messiah would look like. And so, instead of digging deeper, instead of questioning not only the Man he encountered but his own preconceived assumptions as well, Judas rejected.
Then there's Thomas, another man filled with doubts. Many of you might be familiar with his story. He was part of Jesus' "inner circle" of disciples. He saw Jesus perform miracle after miracle, share truth after truth, change heart after heart. But then one day, at the height of the Rabbi's ministry, Jesus was crucified. To Thomas, I imagine it felt as if his world fell apart. Can you imagine all the doubts this would stir? Had Thomas made a terrible mistake, the day he encountered the Man named Jesus and left everything—everything—to follow Him? Where would Thomas go from here? Back to his old life, as if nothing had happened? And what of all the truths he'd been ready to base his life, his future, on?
Then, one day, in the midst of Thomas' inner anguish and despair, the other disciples run to him, full of inexplicable joy. "We have seen the Lord!" they say.
But he said to them, "Unless I see the nail marks in his hands and put my finger where the nails were, and put my hand into his side, I will not believe" (John 20:25 NIV).
How did Jesus respond? Not with rebuke but instead, with grace and love, answering Thomas' doubt and bringing Thomas into an even-deeper relationship with his Savior.
Have something to say about this article? Leave your comment via Facebook below!
advertise with us
Example: "Gen 1:1" "John 3" "Moses" "trust"
Advanced Search
Listen to Your Favorite Pastors